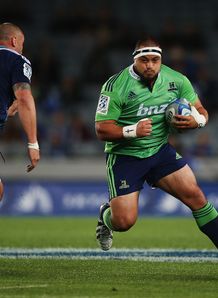 Related links
Teams
Highlanders prop Kane Hames has received a one-week suspension for foul play during last weekend's clash with the Blues in Auckland.
SANZAR duty judicial officer Jannie Lubbe SC has accepted a guilty plea from Hames for contravening Law 10.4 (h) Dangerous charging, after he was cited during a Super Rugby match at the weekend.
Hames has been suspended from all forms of the game for one week up to and including 6 April 2014. The incident, in which Hames made contact with Hayden Triggs at a ruck, occurred in the 59th minute of the match which the Blues won 30-12.
In his finding, Lubbe ruled the following: "Video evidence of the incident clearly showed that Hames entered the ruck without using his arms and made contact with the head/neck area of the Blues player in the process. The action was not carried out with great speed and/or excessive force and I agree with the submission of Mr Rob Harris on behalf of the player that the player clumsily executed the clearing action at the ruck without direct intent to harm his opponent.
"I also agree with the citing commissioner's assessment that the Blues player was in a vulnerable position on the ground and was exposed to risk.
"The player is a young man with a clean record and fortunately the Blues player suffered no serious injury according to the medical report filed. The incident was categorised at low entry level. The player pleaded guilty and accepted the sanction of one week which was reduced from two weeks due to the player's record and plea.
"Accordingly, the player is suspended from all forms of the game up to and including 6 April 2014."