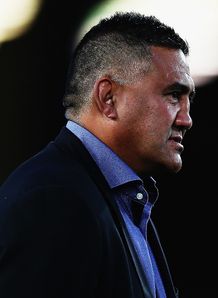 Related links
Teams
Highlanders boss Jamie Joseph was disappointed that his side failed to score a try and wasted chances against the Blues in Auckland.
The home side ran out handsome 30-12 winners and gained revenge over the Highlanders for their loss in Round Two of Super Rugby this year.
Highlighting missed opportunities for his team, Joseph was frustrated by the performance in the second half as the visitors faded away.
"Those opportunities against a good side like the Blues you have got to take and in the second half we came under a lot of pressure trying to chase the game and the Blues played well in that second 40," said Joseph.
"I'm disappointed because the guys did play some good rugby at times but we were out-played in that second 40.
"We create enough opportunities to score points against opponents, quality opposition, and I think our average is about 27 or 28 points per match suggesting we can score tries, but you have to be clinical and those opportunities that you create you have actually got to take them.
"You have to take your hat off the Blues, in a lot of respects they probably wanted it more."
Joseph added that he couldn't always flog star All Blacks duo Aaron and Ben Smith, hence the introduction of lively scrum-half Fumiaki Tanaka.
"I guess we were hoping that [Tanaka's] speed and agility around the edges would spark something for us but to rely on Aaron Smith or Ben Smith to the 80th minute to claw back 20-odd points is a bit tough on those guys."