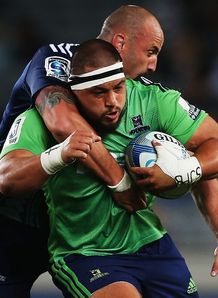 Related links
Teams
Kane Hames of the Highlanders has been cited for alleged foul play during a Super Rugby match at the weekend.
Hames is alleged to have contravened Law 10.4 (h) Dangerous charging when he made contact with Blues' player Hayden Triggs at the ruck.
The incident occurred in the 59th minute of the match between the Blues and Highlanders at Eden Park in Auckland on Saturday.
Upon further review of the match footage, the Citing Commissioner deemed in his opinion the incident had met the red card threshold for foul play.
Law 10.4 (h): Dangerous charging. A player must not charge into a ruck or maul. Charging includes any contact made without the use of arms, or without grasping a player.