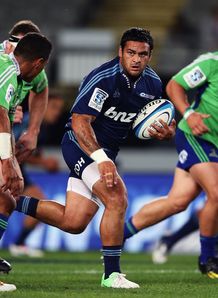 Related links
Teams
A hole discovered in the heart of Blues and All Blacks half-back Piri Weepu may be the reason for his suffering a minor stroke earlier this month.
Weepu complained of migraines he described as "annoying" rather than overly painful ahead of travelling to South Africa with the Blues squad in early March.
Though scans undertaken earlier this week confirmed there were no serious underlying neurological issues, further tests revealed the heart problem.
30-year-old Weepu is expected to make a full recovery, but has been ruled out of Super Rugby for around four weeks pending an appointment with cardiologists next week.
"He had no other symptoms to raise further concern," said Blues medic Dr Stephen Kara.
"We took the precaution of getting an MRI scan for him this week and we are thankful we are now getting to the bottom of this issue."
The stroke Weepu suffered is not thought to be related to his rugby, with Dr Kara claiming it would likely have gone undetected had the player not been in such a finely-monitored environment.
"He's getting the best possible care and advice and we are grateful this has been picked up by our medical experts, as often minor strokes remain undetected," added Blues boss Sir John Kirwan.