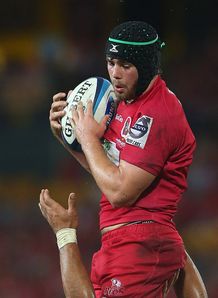 Related links
Teams
The Reds will be without flanker Liam Gill and rapid full-back Aidan Toua for some time following their tour of South Africa.
Following scans earlier this week, the Reds have learned Gill (hamstring) will be out of action for six weeks and Toua (pectoral) for 10 weeks.
This is in addition to Chris Feauai-Sautia (hamstring) who will miss three weeks and Ben Daley (knee) who will miss six weeks.
Beau Robinson has replaced Gill for this week's match against the Stormers, with Dom Shipperley coming in on the wing with Lachie Turner at full-back.
"It is always disappointing to lose players for long periods, however the opportunity is there now for Beau (Robinson) and Dom (Shipperley) to contribute positively to our game," said Graham.
"Both have been involved in every game this season. Beau brings an abrasiveness to the collision area and is excellent communicator.
"Dom has started in three of the games and is continuing to develop his game, particularly his involvement in the close in channels."