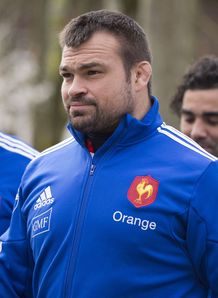 Related links
Teams
France prop Nicolas Mas brought an abrupt end to Tuesday's press conference when he walked out prematurely.
Irritated by the line of questioning by the journalists gathered at French headquarters in Marcoussis, the Montpellier prop stood up and walked out wearing a grim face.
The XV de France have come in for heavy criticism following their narrow win at Murrayfield over the weekend, with "lucky" and "undeserved" amongst the most repeated adjectives.
Above and beyond the quality of France's performance, there have been numerous questions raised across the country as to the direction the national team is taking and the apart lack of a coherent game plan.
Former France coach and current Toulon boss Bernard Laporte told radio station RMC that Bleus coach Philippe Saint-André was "taking the piss" and "denying reality" when he said that France had controlled the game in Edinburgh.
Former France hooker Vincent Moscato joined in, lambasting the coach.
"He's not a politician, he doesn't have to lie!" lamented Moscato.
"It's rugby, he could be honest and admit: 'we got lucky, we were bad as pigs but we got away with it.' But he won't get fired. No one ever does from that post, so he doesn't care."