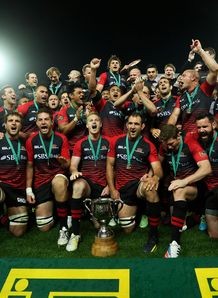 Taranaki will open this year's ITM Cup campaign by hosting Ranfurly Shield holders Counties Manukau at Yarrow Stadium on Thursday, August 14.
New Zealand Rugby released the draw for the nine-week plus play-offs season on Tuesday.
The first round of the eleven-week competition also sees the Southland Stags hosting the Bay of Plenty Steamers on Friday, August 15.
The weekend sees Auckland go to Christchurch to face Canterbury, the Wellington Lions host the Waikato Mooloos at Westpac Stadium while last year's winners of promotion into the Premiership, Tasman Makos, will host the Hawke's Bay Magpies at Lansdowne Park in Blenheim.
The opening round closes out on Sunday with Northland's Taniwha hosting the Manawatu Turbos at Whangarei's Toll Stadium.
Two teams who felt the elation and heartache of winning then losing the Ranfurly Shield in consecutive matches, will get the first two scheduled Ranfurly Shield challenges of 2014.
Otago's Razorbacks will be the first to get their shot in Week 2 as they try to wrestle the precious Log O' Wood from the Counties Manukau Steelers. The Magpies are next on the draw with a Week 3 challenge, and they will be hoping to settle the score having lost the Shield to Counties Manukau just one week after taking it off Otago last year.
The Steelers fended off three challenges in 2013 from Taranaki, Waikato and Southland before locking up the precious prize for the off-season.
This year's ITM Cup semi-finals will be played in the weekend of October 17, with the ITM Cup Championship Final on Friday, October 24, with the right for promotion up for grabs.
For the full ITM Cup schedule, click here.