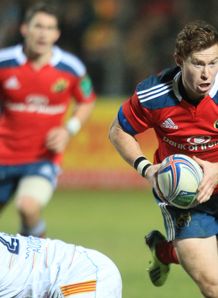 Related links
Teams
Munster scrum-half and rising star Cathal Sheridan has spoken of the shock in the squad after Rob Penney announced his departure.
Head coach Penney is expected to move to Japan after two very successful years with Munster, with the club currently top of the Pro12 and set to host Toulouse in the Heineken Cup quarter-finals in April.
The New Zealander was expected to stay at Munster beyond this season but will now depart, stunning all the players as Sheridan revealed this week.
"I think like any player, I assume they'd probably all tell you the same thing, we were as shocked as anyone when we heard the news," Sheridan told the Irish Times.
"There was no point in saying anything else but at the same time, Rob's got his own personal decisions to make.
"It's obviously disappointing because we're going quite well, but I think himself and Simon [Mannix, backs coach], when they said it to us, as they have been since they got here, they were incredibly professional about it.
"They said 'we're halfway through the season, we've a quarter-final to look forward to, we're fighting for a Rabo semi, there's no point in shaking hands, saying goodbye'.
"So, we're halfway through a job and we'll say our goodbyes and the tears and everything like that at the end of the season when hopefully we've got a bit of silverware."
Sheridan has broken through into the matchday 23 for Munster over the last year, featuring as Conor Murray's back-up, making the 25-year-old one of the newest members of the squad.
Not knowing what to expect after hearing the news, Sheridan credited Penney and Mannix's honesty as Munster now look ahead.
"As a younger member of the squad rather than a newer member of the squad, perhaps, you don't quite know how people are going to react. You don't know if everybody's going to be walking around with their heads down or things like that but it didn't change anything," added Sheridan.
"It was a very matter of fact meeting the guys had with us. It was 'this is what's happening, this is the situation' which I think was good. It's been the way they've dealt with us since they got here.
"They don't deal with us as lessers or anything like that, they just spoke one on one and said 'this is the situation, now we deal with it'."