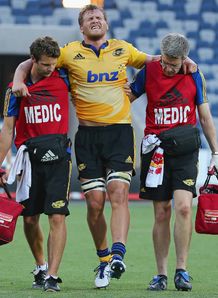 Related links
Teams
Hurricanes flanker Brad Shields is set to miss two to four weeks after suffering an MCL tear against the Melbourne Rebels.
Shields sustained the grade two tear in the Hurricanes' 24-22 loss in Geelong on Saturday.
The openside is now expected to miss the Hurricanes' opening game of the season away to the Sharks in Durban.
"At this stage the reports are Brad has a grade two MCL. I'm not quite sure how long that means he'll be out," Hammett told stuff.co.nz.
"Initial inspections suggested the knee wasn't too loose but he will have to have a scan to confirm that.
"Matt Proctor twisted his ankle and once again we'll have a better idea over the next week how he pulls up. Brad's probably the more serious one at this stage.
"I guess it's just how hard [Brad] plays the game. He's been going well, he's as fit and strong as he's been, so hopefully this doesn't put him out too long."
Hammett looked on the bright side when assessing his team's performance despite the loss.
"I thought we well and truly outplayed them. They took shots at goal where we didn't really take shots," added Hammett.
"The score is a bit irrelevant but the big thing for us was we wanted an improvement on last week. We wanted attitude and intensity."