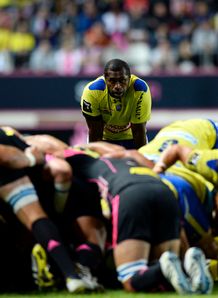 Clermont's formidable home record will come under threat as they host Frenhc league leaders Stade Français in a top-of-the-table clash on Saturday.
With the Six Nations in full swing the big guns are ripe for the picking without their internationals as Toulouse face a crucial test at home to Montpellier.
Biarritz are in for a hiding on the road to Toulon while Racing Métro are under pressure to keep on touch with the race for the play-off spots as they face a tough trip to Perpignan.
Fixtures:
Friday, February 7
Bordeaux-Bègles v Grenoble
Saturday, February 8
Clermont v Stade Français
Bayonne v Brive
Castres v Oyonnax
Perpignan v Racing Métro
Toulon v Biarritz
Toulouse v Montpellier
---
Previews:
ASM Clermont Auvergne v Stade Français Paris
Parc des Sports Marcel Michelin, Clermont Ferrand
What a game this might have been had it taken place outside of the Six Nations.
Clermont will be without Wesley Fofana, Damien Chouly, Benjamin Kayser and Thomas Domingo, while Stade lose Pascal Papé, Jules Plisson, Hugo Bonneval, Rabah Slimani and of course Sergio Parisse.
Still, such is the depth of Top 14 squads that Plisson's spot at fly-half will be filled by Morné Steyn, who has kicked a few points in his time.
Stade lead Clermont by two points at the top of table and have been the surprise package this season. It's great to see them back in contention at the top and they will arrive in Clermont-Ferrand with a five-game winning streak in the league.
Clermont have enough talent to cover their lost personnel, but their 71-game winning streak at home genuinely looks under threat and they were out of character losing to Bayonne, as coach Franck Azema stated this week.
"We just were not ourselves at Bayonne and we came away from that match with a lot of frustration," said Azema.
"There could be 50 excuses we could come up with - a let-down after the European games, tiredness - I don't know.
"But at the end of the day, our team was hardly recognisable at Bayonne and we have to do something about that.
"I don't want to start making comparisons between different teams and the players they have that are unavailable (due to international duty).
"I am just saying that we have to make do with some of our top players at key moments of the season."
Result in Round 5: Stade Français won 23-16
Kick-off: 14:30 (13.30 GMT)
Referee: Sébastien Clouté
---
Aviron Bayonnais v CA Brive-Corrèze
Stade Jean Dauger, Bayonne
Unlike most clubs, the Bayonne staff did not give their players time off last week as they prepared for a crucial clash against a direct rival in the battle to avoid relegation.
Bayonne are just a single point above the second relegation spot but Oyonnax beneath them have a game in hand. It's an intense battle at the bottom that seems to be changing every week, given that Perpignan, Bordeaux-Bègles and Brive are all in danger.
Bayonne's 18-9 win over Clermont last time out was a surprise, and they'll need to turn out a few more of those in order to survive. Their form is strong, winning their last five with victories also over Toulouse and Montpellier.
That doesn't bode well for Brive, despite the fact that their last two matches were wins over Montpellier and Toulon.
The problem is Brive haven't won away from home all season. Only sitting six points above the relegation spot themselves, they have to get something here.
Result in Round 5: Brive won 17-10
Kick-off: 18:30 (17.30 GMT)
Referee: Romain Poite
---
Castres Olympique v US Oyonnax
Stade Pierre Antoine, Castres
Castres were completely outclassed 32-6 on their last run out in the Top 14 against Stade Français, just causing them to slip down at the top of the table.
They now trail Stade by six points, sitting third, but they haven't lost at home all season.
Brice Dulin will be away with France but Geoffrey Palis is back from camp, with Rory Kockott present as ever at scrum-half to hand out punishment off the kicking tee.
Oyonnax have turned their home ground into a fortress too, but it's away wins that last season's ProD2 champions desperately require.
They are yet to win away from home this season, understandably making them underdogs this weekend. Occupying 13th spot but only a point from safety, any points here would be a bonus.
Result in Round 5: Oyonnax won 19-9
Kick-off: 18:30 (17.30 GMT)
Referee: Sébastien Minery
---
Perpignan USA v Racing Métro 92
Stade Aimé Giral, Perpignan
It seems strange to see a club of USAP's quality struggling down the bottom, but struggling they are.
Only three points clear of the drop and with seven wins from their 17 matches this season, Perpignan's campaign just hasn't got going.
That seems strange when you consider the talent available to them, but with Tommaso Allan and James Hook away on Six Nations duty two big playmakers are absent.
Racing will also be weakened without their British and Irish Lions contingent, plus Dimitri Szarzewski starting for France, but are sitting comfortably in mid-table.
Their last outing, a 25-5 win over Toulouse, was impressive - but built around Mike Phillips, Jamie Roberts and Jonathan Sexton. How they fare without them will be interesting.
Result in Round 5: Racing won 19-16
Kick-off: 18:30 (17.30 GMT)
Referee: Christophe Berdos
---
Rugby Club Toulonnais v Biarritz Olympique
Stade Felix Mayol, Toulon
Former Springbok Danie Rossouw returns from a long lay-off for Toulon, but the hosts will have to make do without injured scrum-half Sebastien Tillous-Borde and lock Bakkies Botha.
They will however have the services of centre Maxime Mermoz and loose forward Virgile Bruni, who have been released from duty with the French national team.
Toulon's currently position of 7th in the Top 14 is shocking when you consider their pedigree and squad, but an inability to win away from home has been their undoing. They've not won away since September 8.
What Biarritz would give though to have Toulon's problems. The Basque side seem destined for relegation given they are 17 points clear of safety with nine games to go.
Biarritz have only won three times in the league all season, and the last of those came in November. For a squad with so much talent and a club with so much history, it's a sad situation.
Result in Round 5: Toulon won 24-13
Kick-off: 18:30 (17.30 GMT)
Referee: Attalah Salem
---
Stade Toulousain v Montpellier Hérault Rugby
Stade Ernest Wallon, Toulouse
Fifth plays sixth in a clash that could not come at a worse time for Toulouse, who are without nine first-choice players due to international call-ups and injuries.
It's a clash that could be influential in the race for the play-offs as both teams currently sit on the edge of missing the cut.
Toulouse have not lost at home this season, but Montpellier will travel west in confident mood having won 25-0 on home soil earlier this season.
That said, Fabien Galthié's team have claimed just one win on the road this term and have lost on their last ten visits to Toulouse.
Keep an eye out for Vincent Clerc, who will play his first game at Stade Ernest Wallon for ten months as he continues his return from a long layoff following knee surgery.
Result in Round 5: Montpellier won 25-0
Kick-off: 20:35 (19.35 GMT)
Referee: Mathieu Raynal