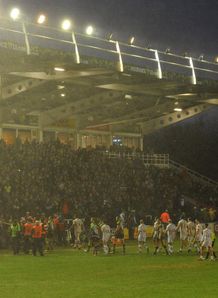 Related links
Teams
Also see
Leicester Tigers director of rugby Richard Cockerill has backed referee Gwyn Morris's decision to end Saturday's LV=Cup clash with Harlequins early.
Morris called full-time nine minutes early at the Stoop as freak weather belted the stadium resulting in falling scaffolding and flying advertising boards.
With 60 minutes having been played, the 20-6 scoreline will stand as the final result but both Leicester and Quins were denied the possibility of getting a bonus point by the premature ending.
Losing the opportunity to salvage an extra point could prove costly for Tigers who are third in Pool Two, a point behind leaders Sale and level on points with Exeter.
But Cockerill admitted it was the correct decision to take the players off the field.
"It was bizarre," he said.
"The referee handled it really well.
"The stadium manager and the referee managed it how they saw fit and the safety of the supporters is paramount.
"I don't think Quins' victory was in doubt at that stage. I think the game was past us.
"With nine minutes to go you would back yourselves to get a bonus point - but the weather was extreme.
"With scaffolding boards blowing on to the pitch the safety of the fans becomes all-important.
"You don't want a supporter getting hit by an eight-foot scaffolding plank from 50 foot because it will probably kill you.
"While it could affect the possible outcome of our group and who qualifies, sometimes it's about the bigger picture.
"You won't often find me saying it's only a game but it is - and it's not worth somebody getting injured."
The premature result makes no difference to defending champions Harlequins, who could not reach the semi-finals after losing their opening two group matches.
"There's frustration from our point of view because that's what people end up talking when actually it was a decent game and Quins played some good rugby," said Head coach John Kingston.
"We got the opportunity to get some players who have been out for a long time back on the park.
"I can understand why Leicester would be frustrated because they are seeking a bonus point, maybe to stay at the top of the group, and we were one try away from getting five points.
"But I have no problem with the decision because, at the end of the day, their job is to say 'No, it's not safe and until such time as we go up on the roof safety has to come first'.
"I can confirm that the game was called off because the stadium manager advised the referee that it wasn't safe to continue at that point so he brought the players off.
"The rules state that if 60 minutes is played then the result stands."