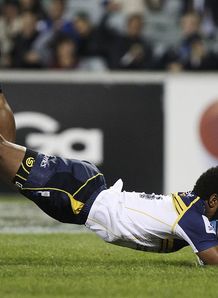 Related links
Teams
The Wallabies have been handed a boost ahead of the 2015 World Cup as winger Henry Speight was given an eligibility date of September 11, 2014.
The International Rugby Board Regulations Committee Panel, consisting of Bob Latham (USA, Chairman), Gerald Davies (Wales) and Porfirio Carreras (Argentina), heard evidence from the player and the Australian Rugby Union (ARU).
It came following a request by the ARU to seek a ruling as to whether wing Speight is eligible for Australia representative duty under Regulation 8.
"The Panel determined that, based on the relevant provisions of IRB Regulation 8, the relevant guidelines and the facts presented, Speight had not yet satisfied the 36-month consecutive residency criteria as set out under Regulation 8.1.c since moving to Australia from New Zealand in 2010 owing to a significant break during 2011," said the IRB in a statement released on Friday.
"The Panel therefore confirmed that Speight could be eligible to represent Australia by September 11, 2014, providing that he remains resident in Australia during the intervening period."