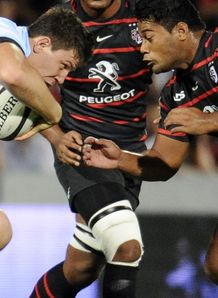 Related links
Also see
Toulouse travel to the Stade de France without their Six Nations contingent on Saturday to face a Racing Métro outfit seeking to kick-start their season.
The capital is set for a busy weekend as second-placed Stade Français host third-placed Castres on Friday.
Four of the top five are on the road as Clermont visit relegation-threatened Bayonne and Toulon travel to Brive.
Montpellier are hoping to close the gap on the leaders at home to Bordeaux-Bègles while Grenoble are looking to drop anchor in the top six as they welcome injury-ravaged Perpignan.
Biarritz host a crucial basement battle with Oyonnax.
Fixtures:
Friday, January 24
Stade Français v Castres
Saturday, January 25
Racing Métro v Toulouse
Bayonne v Clermont
Biarritz v Oyonnax
Grenoble v Perpignan
Montpellier v Bordeaux-Bègles
Brive v Toulon
Previews:
Racing Métro 92 v Stade Toulousain
Stade de France, St. Denis (Paris)
Ireland coach Joe Schmidt will watch on nervously when Jonathan Sexton takes to the field at fly-half for Racing, one week out from the beginning of the Six Nations.
Sexton's season was been underwhelming much like Racing's as the big-spenders only sit in eighth place, three points off the final playoff spot that is currently held by Grenoble of all teams.
Racing left Clermont last weekend in the Heineken Cup with only three points to show for their troubles in dismal conditions at the Stade Marcel Michelin, and the visit of Toulouse next is no easy fixture.
The four-time European champions however will be without their French contingent - Gaël Fickou, Jean-Marc Doussain, Yoann Huget, Maxime Médard, Yannick Nyanga, Louis Picamoles and Yoann Maestri - depriving them of several leading stars.
It opens the door for Racing, but Toulouse should cope.
Result in Round 4: Toulouse 30-6 Racing Metro
Kick-off: 14:55 (13.55 GMT)
Referee: Cyril Lafon
---
Aviron Bayonnais v ASM Clermont Auvergne
Stade Jean Dauger, Bayonne
Bayonne remain deep in trouble at the bottom of the Top 14, currently occupying the second relegation spot.
The fight above doomed Biarritz between Bayonne, Oyonnax and arguably Brive and Perpignan looks set to go down to the wire.
A break from the tension of the league saw Bayonne lose at Wasps and then away to Grenoble - hardly the confidence boost they wanted.
Clermont meanwhile romped into the quarter-finals of the Heineken Cup with their win over Racing and will await the visit of Leicester.
For now however their focus is on the league and after losing to Toulouse last time out, bringing to an end a winning streak stretching back to October, Vern Cotter's team will look to increase their three-point lead at the peak of the Top 14 this weekend.
The visitors will be without French internationals Thomas Domingo, Benjamin Kayser, Damien Chouly and Wesley Fofana.
Result in Round 4: Clermont 55-0 Bayonne
Kick-off: 18:30 (17:30 GMT)
Referee: Salem Attalah
---
Biarritz Olympique v US Oyonnax
Parc des Sports d'Aguilera, Biarritz
Troubled times in Biarritz where a training ground punch-up between the players and a fallout between Dimitri Yachvili and Laurent Rodriguez have underlined the tension in the build-up to this must-win relegation scrap.
Their relegation - much like Worcester in the Premiership - feels done and dusted.
Losing Raphaël Lakafia to a broken hand after scrapping with Imanol Harinordoquy hardly helps Biarritz's cause, but when they're 13 points away from the next team at the bottom and 16 from safety, there's not a lot that can.
Hence why making ground on teams like Oyonnax, currently three points clear of the drop, is so important.
Last season's ProD2 champions might be without Benjamin Urdapilleta but 29-year-old fly-half Regis Lespinas has been influential with the boot in recent weeks, ensuring a 6-0 win over Racing last time out in the Top 14.
Winning at the Parc des Sports d'Aguilera would be a huge lift for Oyonnax, while more or less putting the final nail in Biarritz's coffin.
Result in Round 4: Oyonnax 24-22 Biarritz
Kick-off: 18:30 (17:30 GMT)
Referee: Sébastien Clouté
---
FC Grenoble v USA Perpignan
Stade Lesdiguières, Grenoble
Grenoble are this season's surprise package - sixth in the Top 14 after 16 games. The key to their success isn't immediately obvious - they have no players in the league's top ten points or try scoring lists - but the results reveal all.
This is a team that brought Toulon's 363 day unbeaten home record crashing down in Round 16 after Ratu Ratini's interception try in the 78th minute. The week before they defeated champions Castres.
It's for that reason that Grenoble, with only six losses from 16 games, find themselves right in the mix for the playoffs.
Perpignan are only six points behind Grenoble in the league but five places beneath them, aptly summing up the narrow margins found in the Top 14.
The Catalan club are going through a crisis at fly-half with Sofiane Guitoune now ruled out for the season but James Hook and Tommaso Allan are both back momentarily for this match from international duty.
Their returns will be welcome, as Perpignan hope to repeat their Round 16 success at home over Bayonne by winning again and increasing that gap between themselves and relegation.
Result in Round 4: Perpignan 36-13 Grenoble
Kick-off: 18:30 (17:30 GMT)
Referee: Alexandre Ruiz
---
Montpellier Hérault Rugby v Union Bordeaux-Bègles
Stade Yves Du Manoir, Montpellier
Montpellier might have mercilessly thrashed Biarritz 48-22 at home not that long ago, but their 15-9 loss to Brive in Round 16 saw them lose ground on their playoff rivals.
Nicolas Mas is the only loss to France for this weekend, leaving Montpellier in good health and with a good chance to break back into the top six against a misfiring Bordeaux-Bègles.
With Montpellier's first-team players back in the fold after being rested against Ulster, the challenge for Bordeaux-Bègles is a steep one.
There will be a reliance as ever on Pierre Bernard, the third-highest points scorer in the league this season with 175, and flying winger Metuisela Talebula - who has scored nine tries already.
UBB will be without tighthead Benjamin Sa, who have been ruled out for at least a month after dislocating his shoulder against Bath.
Result in Round 4: Bordeaux 29-36 Montpellier
Kick-off: 18:30 (17:30 GMT)
Referee: Patrick Pechambert
---
CA Brive-Corrèze v Rugby Club Toulonnais
Stade Amédée-Domenech, Brive-la-Gaillarde
Brive's win over Montpellier in Round 16 produced a significant exhale for the promoted side, who now sit five points clear of the drop zone.
Should results go their way this weekend Brive could move as high as 8th, with full-back Gaëtan Germain likely to have a large say in that possibility given his status as the league's top points scorer with 185.
Toulon meanwhile have a home Heineken Cup quarter-final secured against three-time champions Leinster to look forward to in April. You could argue though that having reached the Top 14 final the last two years and lost on both occasions, that the league matters more than Europe.
With the signing of Leigh Halfpenny all but done, Toulon will look to round off a good week with victory away from home at Brive.
On paper their squad should achieve this with ease, yet Toulon have only won away from home once all season, losing six matches - giving Brive at least some hope.
Former All Black lock Ali Williams is fit again for the European champions after a long layoff due to a back injury.
Result in Round 4: Toulon 62-12 Brive
Kick-off: 20.45 (19.45 GMT)
Referee: Sébastien Minery