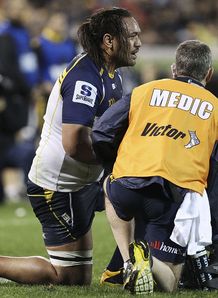 Related links
Teams
Also see
Brumbies number eight Fotu Auelua has bounced back from a crushing few months and is raring to go for the new season.
Auelua was set to feature for Australia against the British and Irish Lions, before a cruelly timed shoulder injury cost him his chance of making a debut for the Wallabies.
The 29-year-old then ended up on the losing side in the Super Rugby Final for the Brumbies against the Chiefs and slumped into a depressed state, before returning to pre-season training with the squad and shedding 20 kilograms in preparation for the new campaign.
''Mentally I fell into a slump, the drive wasn't there and I started to doubt myself,'' Auelua told the Canberra Times.
''I told the guys I wasn't happy, I was all over the shop. It wasn't just rugby, it was a chain reaction and I lost my way.
''I'm so grateful pre-season started when it did... I had post-surgery depression.
''But a guy like David Pocock pushed me, he motivated me, the medical staff got me back and now I'm lifting weights that I wasn't even doing last year.'
''[Pocock] has been a massive influence on me this pre-season; it's a testament to who he is as a player. It's about what you do on the field, not what you say.''
Auelua's frustration at being forced to miss the Lions series was understandable. The Wellington-born back-row returns from stints abroad with Dax, Toulon and NTT Shining Arcs to join the Brumbies with the objective of taking on the Lions.
''It was devastating ... I based my return to Australia [in 2012] about being a part of that series and I wasn't a part of it. I dwelt on it and it brought me down,'' added Auelua.
''Jake [White] told him [then Australia head coach Robbie Deans] my shoulder was gone. We found out it was a full dislocation - that was a battle for me.''
Now trimmed and fit for the new Super Rugby season, Auelua's quest to play Test rugby is set to resume once more.