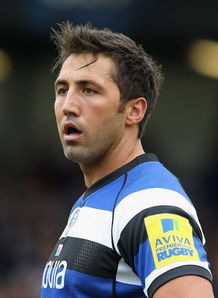 Related links
Teams
Bath centre Gavin Henson admits he does not know if he will stay at The Recreation Ground beyond this current season.
The 31-year-old is out of contract in June after joining the club last year.
Henson's first-team action has been limited due to a calf injury but he has played a prominent role for the 'A' side as they secured the reserve league title earlier this season.
Bath are going well in the Aviva Premiership with a first-choice centre pairing of Kyle Eastmond and Jonathan Joseph, but Henson did appear for Bath in the Challenge Cup win over the Dragons last Saturday.
"I'm loving it at Bath but we'll see what's going to happen. Hopefully, it will sort itself out," Henson told WalesOnline.
"I knew it was going to be hard to get a chance at Bath when I joined because they've got such a good team and squad.
"We're a coming force in England, lying third in the Aviva Premiership and our win over the Dragons has put us into the quarter-finals of the Amlin so it's looking good.
"Bath signed me as cover and I was hoping I would push my way into the first team but it's been playing that well I haven't had too many chances.
"When I joined them I didn't have a lot of options elsewhere but, irrespective of my future at Bath, I want to keep on playing rugby.
"I do feel I have a few more years of good rugby in me and I don't want to stop at the end of the season. If it's not at Bath, hopefully somebody else will want me."
Henson admitted that he would be interested in a move to the Dragons to link up with his former boss at the Ospreys and London Welsh, Lyn Jones, should the opportunity present itself.
"Things seem to be on the up at the Dragons with Lyn in charge and 'Byrney' and 'Brewy' on the way. Perhaps they'd be interested in me!" added Henson.
"Seriously, I'd consider anything. I've always enjoyed working with Lyn... I'll have to have a word with him!"