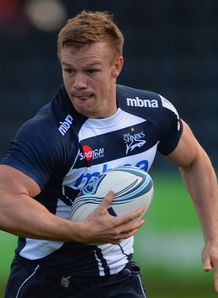 Related links
Teams
Wales and Sale scrum-half Dwayne Peel has spoken about his reasoning for leaving the club at the end of the season.
The 32-year-old is set to join current Championship club Bristol, who also announced the signing of Bath prop Anthony Perenise on Tuesday.
Peel revealed that it was difficult to leave Sale after six years in Manchester, but that the possibility of being able to coach and being closer to his family were both incentives.
"It has been a very tough decision to make, purely because I have loved all of my time here," Peel told the Manchester Evening News.
"I've spent six years here and in that time I have met some brilliant people and its been great.
"My family have settled in the North West and I've loved my time so from that point of view it was very difficult.
"The memories I have made here will stay with me. There have been good years and hard years - I've seen the highs and the lows.
"I will miss the guys and miss the club as there are some great characters within Sale both with the playing staff, the coaching staff and the support staff.
"There were a lot of factors I weighed up in making the decision. The geography and the fact that Bristol isn't far from Wales wasn't the be all and end all in my decision but everything helps.
"I spoke to Bristol head coach Andy Robinson and I was very impressed with their plans and ambitions. They know where they want to go and I just thought it would be good to be a part of it.
"I felt at this stage of my career at 32 it would be a good challenge for me and that's basically what swung it.
"Long term I would like to go into the coaching side of the game. First and foremost I want to play for the next two or three years.
"Given the rugby I'm playing at the minute hopefully I can continue to play for as long as I can but ultimately coaching is what I want to do and there will be a chance to do a bit there."
Peel's focus now lies on ending his time with Sale on a high, with relegation not a concern this season and silverware on offer in the Challenge Cup.
"Hopefully we can finish the season well as that's the biggest thing for me now," added Peel.
"We're in a good position in the Challenge Cup and in a decent position in the league with all the big teams having to come to our ground so hopefully we can make it an exciting end to the season for everyone.
"I really want to go out on a high. The team's playing well and I've been happy with my form so hopefully we can get some success.
"I've been lucky enough to play alongside a special group of people, especially over these past two or three years.
"We've really built up a good bunch of boys and I've made some friends for life as the group of lads here now are top drawer and I'll leave here with a lot more happy memories than bad that's for sure."