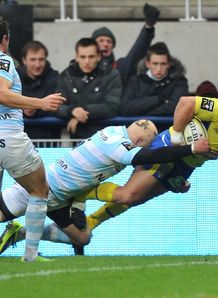 Related links
Also see
Two impressive away victories headlined Round 12 of the Top 14 as Biarritz won in Brive and Castres claimed the spoils in Montpellier on Saturday.
Clermont recorded their 67th consecutive win at home by running six tries past Rcaing Metro to move level with Toulon at the top on the standings.
Results:
Toulon 15-9 Perpignan
Bayonne 24-10 Grenoble
Bordeaux-Bègles 45-23 Stade Français
Brive 9-14 Biarritz
Montpellier 16-20 Castres
Toulouse 14-3 Oyonnax
Clermont 47-14 Racing Métro
---
CA Brive-Corrèze 9-14 Biarritz Olympique
Stade Amédée-Domenech, Brive-la-Gaillarde
A highly-motived and committed Biarritz team succeeded where Castres and Toulouse have failed and became the first team to win in Brive this season.
An error-riddled first half ended with a punch-up as Biarritz led 5-0 before the players headed to the changing rooms to the boos of the local fans.
Ex-French international Damian Traille was the hero for BO, scoring the game's only try before securing victory with a late drop.
Biarritz move five points behind Oyonnax, but still face an uphill back to avoid the drop as they still trail Basque rivals Bayonne by nine points.
The scorers:
For Brive:
Pens: Germain 3
For Biarritz :
Try: Traille
Pens: Baby 2
Drop: Traille
Yellow card: Lund
Brive: 15 Gaetan Germain, 14 Guillaume Namy, 13 Arnaud Mignardi, 12 Andrew Mailei, 11 Venione Voretamaya, 10 Riaan Swanepoel, 9 Jean Baptiste Pejoine, 8 Sisaro Koyamaibole, 7 Dominiko Waqaniburotu, 6 Petrus Hauman, 5 Arnaud Mela, 4 Julien Ledevedec, 3 Patrick Barnard, 2 Guillaume Ribes, 1 Karlen Asieshvili,
Replacements: 16 Francois da Ros, 17 Johannes Coetzee, 18 Simon Pinet, 19 Said Hireche, 20 Damien Neveu, 21 Romain Sola, 22 Laurent Ferreres, 23 Kevin Buys.
Biarritz: 15 Damien Traille, 14 Takudzwa Ngwenya, 13 Seremaia Burotu, 12 Benoit Baby, 11 Aled Brew, 10 Daniel Waenga, 9 Yann Lesgourgues, 8 Imanol Harinordoquy, 7 Tanguy Molcard, 6 Benoit Guyot, 5 Mathias Marie, 4 Erik Lund, 3 Francisco Gomez Kodela, 2 Jean Philippe Genevois, 1 Alexandre Menini,
Replacements: 16 Jonnah Dabti, 17 Thomas Synaeghel, 18 Addison Lockley, 19 Luix Roussarie, 20 Julien Peyrelongue, 21 Charles Gimenez, 22 Paul Couet Lannes, 23 Benedict Broster,
---
Aviron Bayonnais 24-21 FC Grenoble
Stade Jean Dauger, Bayonne
12th-placed Bayonne snatched a precious win at home thanks to a late penalty from Argentine Martin Bustos-Moyano and move clear of the drop zone.
Despite outscoring their hosts two-tries to none and having led 11-9 at the break, Grenoble were made to pay for their multiple errors and must settle for a losing bonus point.
The scorers:
For Bayonne:
Pens: Bustos Moyano 6, Brett
Yellow cards: Bustos Moyano, Monribot
For Grenoble:
Tries: Messina, Hegarty
Cons: Caminati
Pens: Courrent 2, Caminati
Biarritz 15 Scott Spedding, 14 Martin Bustos Moyano, 13 Joe Rokocoko, 12 Manu Ahotaeiloa, 11 Marvin O'Connor, 10 Stephen Brett, 9 Mathieu Belie, 8 Charles Ollivon, 7 Julien Puricelli, 6 Mark Chisholm, 5 Lisiate Faaoso, 4 Dewald Senekal, 3 Gert Muller, 2 David Roumieu, 1 Aretz Iguiniz,
Replacements: 16 Anthony Etrillard, 17 Nemiah Tialata, 18 Abdellatif Boutaty, 19 Jean Joseph Marmouyet, 20 Guillaume Rouet, 21 Santiago Fernandez, 22 Jean Monribot, 23 JC Janse van rensburg.
Grenoble: 15 Fabien Gengenbacher, 14 Benjamin Thiery, 13 Rida Jaouher, 12 Geoffroy Messina, 11 Julien Caminati, 10 Blair Stewart, 9 Valentin Courrent, 8 Florian Faure, 7 Peter Kimlin, 6 Jonathan Best, 5 Andrew Farley, 4 Hendrik Roodt, 3 Richard Choirat, 2 Anthony Hegarty, 1 Kenan Mutapcic,
Replacements: 16 Romain David, 17 Albertus Buckle, 18 Benjamin Hand, 19 Fabien Alexandre, 20 Henry Vanderglas, 21 Matthieu Nicolas, 22 James Hart, 23 Dayna Edwards,
---
Union Bordeaux-Bègles 45-23 Stade Français Paris
Stade Jacques Chaban-Delmas, Bordeaux
UBB whipped Stade Français six tries to two in a high-paced clash on the Atlantic coast.
The Parisians, sitting sixth, were missing ten internationals and had a nightmarish game, losing two hookers - one injured, one to a yellow card - in quickfire succession.
Playing with 13 against 15 for 10 minutes, they were hit by 17 points and never came back in the game.
It was an excellent result which gives Bordeaux some breathing space as they sit 11th just above the relegation zone.
The scorers:
For Bordeaux-Bègles:
Tries: Marais, Maynadier 2, Connor, Domvo, Auzqui
Cons: Bernard 3
Pens: Bernard 3
Yellow cards: Marais, Rey
For Stade Français:
Tries: Plisson, Arias
Cons: Dupuy, Porical
Pens: Dupuy 3
Yellow cards: Sempere, Camara
Bordeaux-Bègles: 15 Darly Domvo, 14 Rafael Carballo, 13 Felix Le bourhis, 12 Julien Rey, 11Blair Connor, 10 Pierre Bernard, 9 Heini Adams, 8 Matthew Clarkin, 7 Hugh Chalmers, 6 Louis Madaule, 5 Adam Jaulhac, 4 Jandre Marais, 3 Albert Toetu, 2 Clement Maynadier, 1 Jean Batiste Poux,
Replacements: 16 Benat Auzqui, 17 Jefferson Poirot, 18 Alikisio Fakate, 19 Matt Graham, 20 Emmanuel Saubusse, 21 Romain Lonca, 22 Charles Brousse, 23 Silviu Florea.
Stade Français: 15 Hugo Bonneval, 14 Julien Arias, 13 Geoffrey Doumayrou, 12 Meyer Bosman, 11 Djibril Camara, 10 Jules Plisson, 9 Julien Dupuy, 8 David Lyons, 7 Olivier Missoup, 6 Antoine Burban, 5 Gerhard Mostert, 4 Anton van Zyl, 3 David Attoub, 2 Aled de Malmanche, 1 Heinke van der Merwe,
Replacements: 16 Laurent Sempere, 17 Romain Frou, 18 Alexandre Flanquart, 19 Sylvain Nicolas, 20 Jerome Fillol, 21 Jonathan Danty, 22 Jerome Porical, 23 Benjamin Chabert.
---
Montpellier Hérault Rugby 16-20 Castres Olympique
Stade Yves Du Manoir, Montpellier
The exploit of the day went to Castres, who came away with a precious win from Montpellier, who drift away from the leaders, as they sit fourth, three points off the lead.
A 71st minute try from full-back Geoffrey Palis turned things around for Castres, who owe their victory to a huge performance from their pack.
Montpellier's new signing Rene Ranger failed to shine in his first match, with the New Zealand wing given few exploitable balls despite the hosts' positive intentions.
The scorers:
For Montpellier:
Try: Olivier
Con: Paillaugue
Pens: Paillaugue 3
For Castres:
Try: Palis
Pens: Palis 5
Yellow card: Diarra
Montpellier: 15 Pierre Berard, 14 Rene Ranger, 13 Anthony Tuitavake, 12 Wynand Olivier, 11 Yoan Audrin, 10 Francois Trinh Duc, 9 Benoit Paillaugue, 8 Alex Tulou, 7 Alexandre Bias, 6 Kelian Galletier, 5 Thibaut Privat, 4 Mickael De marco, 3 Barry Faamausili, 2 Mickael Ivaldi, 1 Yvan Watremez,
Replacements: 16 Thomas Bianchin, 17 Naama Leleimalefaga, 18 Bobins Tchale Watchou, 19 Fred Quercy, 20 Jonathan Pelissie, 21 Robert Ebersohn, 22 Anthony Floch, 23 P. Fa'Anunu.
Castres: 15 Geoffrey Palis, 14 Romain Martial, 13 Romain Cabannes, 12 Remi Lamerat, 11 Marcel Garvey, 10 Daniel Kirkpatrick, 9 Julien Tomas, 8 Pedrie Wannenburg, 7 Ibrahim Diarra, 6 Jan Bornman, 5 Rodrigo Capo Ortega, 4 Christophe Samson 3 Karena Wihongi, 2 Brice Mach, 1 Saimone Taumoepeau,
Replacements: 16 Marc Rallier, 17 Anton Peikrishvili, 18 Richie Gray, 19 Antonie Claassen, 20 Cedric Garcia, 21 Paul Bonnefond, 22 Remy Grosso, 23 Michael Coetzee.
---
Stade Toulousain 14-3 US Oyonnax
Stade Ernest Wallon, Toulouse
Toulouse laboured to an unconvincing win over promoted Oyonnax with a single try from Yann David minutes before the final whistle.
But it was enough to see Toulouse move up to third place just one point behind the leaders.
Despite having the wind at their backs and the lion's share of possession, Toulouse only led 9-3 at the break as they struggled to break down a determined defensive effort from the visitors.
The scorers:
For Toulouse:
Try: David
Pens: Barraque 3
For Oyonnax:
Pen: Urdapilleta
Yellow card: El Abd
Toulouse: 15 Clement Poitrenaud, 14 Timoci Matanavou, 13 Yann David, 12 Hosea Gear, 11 Yves Donguy, 10 Jean Pascal Barraque, 9 Sebastien Bezy, 8 Gillian Galan, 7 Yacouba Camara, 6 Gregory Lamboley, 5 Patricio Albacete, 4 Romain Millo Chlusky, 3 Yohan Montes, 2 Chiliboy Ralepelle, 1 Schalk Ferreira,
Replacements: 16 Christopher Tolofua, 17 Cyril Baille, 18 Edwin Maka, 19 Louis Picamoles, 20 Anthony Meric, 21 Gael Fickou, 22 Maxime Medard, 23 Antoine Guillamon.
Oyonnax: 15 Silvere Tian, 14 Dug Codjo, 13 Guillaume Bousses, 12 Pierre Aguillon, 11 Tikiko Koroivoutu, 10 Benjamin Urdapilleta, 9 Agustin Figuerola, 8 Christophe Andre, 7 Valentin Ursache, 6 Joseph El Abd, 5 Damian Browne, 4 Miroslav Nemecek, 3 Marc Clerc, 2 Neil Clark, 1 Antoine Tichit,
Replacements: 16 Jody Jenneker, 17 Ruaan du Preez, 18 Damien Lagrange, 19 Scott Newlands, 20 Nicolas Vuillemin, 21 Regis Lespinas, 22 Roimata Pune, 23 Erwan Iapteff.
---
ASM Clermont Auvergne 47-14 Racing Métro 92
Stade Yves Du Manoir - Colombes (Paris)
Clermont rejoined leaders Toulon on Saturday with another crushing victory on home soil over their Heineken Cup pool rivals. European champions Toulon had extended their lead on Friday despite a lacklustre 15-9 home win to Perpignan but Clermont, moved level with 36 points despite being hit by the absence of several of their internationals away on Test match duty.
Racing-Metro were no match for a Clermont inspired by Samoan Fritz Lee with the side from central France touching down six tries, including one from international winger Julien Malzieu, making his return after a lengthy injury layoff.
Racing had to wait until the 57th-minute to get on the scoreboard with a try from Camille Gérondeau restoring some pride to a side trailing 40-0.
Racing, meanwhile, are now sitting in tenth position, nine points off the leaders.
The scorers:
For Clermont :
Tries: Sivivatu, Cabello, King, Buttin, Lacrampe, Malzieu
Cons: James 4
Pens: James 3
For Racing Métro:
Tries: Gerondeau, Dumoulin
Cons: Dambielle 2
Yellow card: Chavancy
Clermont: 15 Jean Marcellin Buttin, 14 Noa Nakaitaci, 13 Regan King, 12 Benson Stanley, 11 Sitiveni Sivivatu, 10 Brock James, 9 Thierry Lacrampe, 8 Fritz Lee, 7 Alexandre Lapandry, 6 Julien Bonnaire, 5 Julien Pierre, 4 Jamie Cudmore, 3 Daniel Kotze, 2 Benoit Cabello, 1 Raphael Chaume,
Replacements: 16 Clement Andrieux, 17 Vincent Debaty, 18 Loic Jacquet, 19 Julien Bardy, 20 Ludovic Radosavljevic, 21 Michael Delany, 22 Julien Malzieu, 23 Clement Ric.
Racing Métro: 15 Benjamin Lapeyre, 14 Adrien Plante, 13 Henry Chavancy, 12 Fabrice Estebanez, 11 Marc Andreu, 10 Jonathan Wisniewski, 9 Sebastien Descons, 8 Jacques Cronje, 7 Antoine Battut, 6 Camille Gerondeau, 5 Francois van der Merwe, 4 Juandre Kruger, 3 Luc Ducalcon, 2 Virgile Lacombe, 1 Soane Tonga'uiha,
Replacements: 16 Jeremie Maurouard, 17 Davit Khinchagishvili, 18 Karim Ghezal, 19 Bernard le Roux, 20 Laurent Magnaval, 21 Benjamin Dambielle, 22 Alexandre Dumoulin, 23 Walter Desmaison.