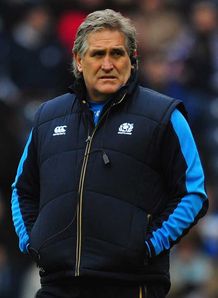 Related links
Teams
Scott Johnson bemoaned his side's errors in the wake of a disappointing 28-0 defeat to South Africa at Murrayfield.
The Scots were sucker-punched by three first-half tries, with imprecision and handling mistakes costing them possession and field position.
"We got punished on our mistakes," said Johnson.
"They were very clinical, they took their chances. The maul for the first try was wonderfully set up, and they scored a great try off our missed tackle. There's a lot of us in that as well."
The home side's line-out malfunctioned terribly early on, as they lost the ball on the five out of their opening six throw-ins.
Johnson, while visibly frustrated at the lack of execution, praised his pack for the way they reacted to shore up the set-piece.
"There were a couple of issues at the start of the game," added Johnson.
"They put us under heavy pressure, we accept that. But we bounced back. We won probably elevent on the bounce, which is unusual in most games.
"So we showed composure in that area after they put is under a lot of pressure. We got ourselves out of the jam."
Indeed, the coach was keen to pay tribute to the character of several of his charges.
"This ride, this journey for us is about finding out about people," acknowledged Johnson.
"We found out about a few today."
The Australian highlighted several areas, unsurprisingly the set-piece and contact area among them, that the Scots must improve upon ahead of next week's clash with Australia.
"We need our set-piece to give us a platform to play off," confirmed Johnson.
"We want to start well. That's obvious, and we've spoken about it.
"The contact area too. Australia were wonderful in contact against Ireland yesterday, they really punished Ireland every time they got involved."
Rather than radical changes to the Scots' approach, Johnson said, it was a reinforcement of the same areas they would target.
"It's the same mantra you've been hearing from me for the last six weeks," added Johnson.
"It's the same thing I've being saying all week."
by Jamie Lyall
@jlyall93