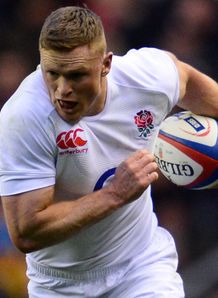 Related links
Teams
England winger Chris Ashton says he feels revitalised ahead of his nation's clash with Australia at Twickenham on Saturday.
The Saracens wide man, known for his prolific try-scoring record, is famed for a long-range effort bagged three years ago at the same venue, against the same opposition.
Having suffered something of a slump in form last season, which he puts down to trying too hard, Ashton is relishing the chance to scale the Test-match heights once again.
"I think if you feel more confident in yourself and a bit more relaxed with it, not trying so hard to make everything come off, it kind of has an opposite effect sometimes," Ashton told Sky Sports News.
"If you feel relaxed and more involved in the game, those things will come automatically. Maybe I was putting a bit too much pressure and a bit too much effort in.
"I think I had to take a step back with it and re-assess where I was at and what I needed to get right and the basic stuff that I needed to concentrate on and get better at.
"The (England) coaches here and the coaches at Saracens have helped me throughout getting through that.
"I just feel back to myself."