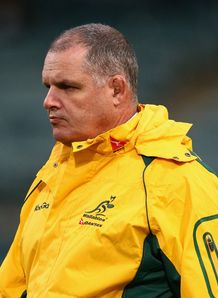 Related links
Teams
Also see
Wallabies coach Ewen McKenzie refuses to enter into discussions over the possibility of claiming an historic Grand Slam in November.
Australia face back-to-back Tests against England, Italy, Ireland, Scotland and Wales on their five-game tour of Europe as they look to find some positive results after an unsuccessful start to McKenzie's reign.
The Wallabies have only once beaten the four Home Nations - back in 1984 under coach Alan Jones - and having won just two of his seven games at head coach, McKenzie is not looking no further than the first tour fixture against England on November 2.
"I'm not going to sit here and talk about Grand Slams," said McKenzie.
"It's no different to scoring four tries to get a bonus point, you can spend your whole time worrying about it.
"There will be a point in time where it becomes worth talking about, but you've got to set it up right."
Australia are trying to take positives out of Saturday's defeat to New Zealand, having scored the most points by any Test side against an All Blacks team on home soil.
The 32-man Wallaby squad will leave for London on Friday with plenty of questions hanging over their tight-five.
But McKenzie insisted that the tour presented "a good chance to enhance your reputation is how I look at it. It doesn't matter how you get in the team.
"You get there and you have to make the most of it. There are definitely guys who've been given a go and enhanced their prospects, or enhanced my thinking about them, so that's what it's all about.
"[The northern hemipshere teams are] coming off club environments so we should hopefully have some edge," he added.
However, he admits he is far from relaxed after the 3-0 Bledisloe Cup whitewash.
"I'm continually anxious," joked McKenzie.
"I judge myself on winning, so I don't sit here comfortably and say that it's been easy, or relaxed at all. Far from it.
"But I don't want it to be easy, because if it was easy you wouldn't be in the job. Someone else would still be there."