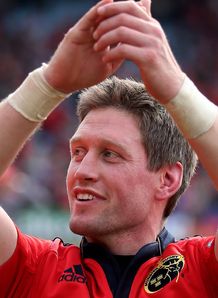 Racing Metro kicking coach Ronan O'Gara has labelled the Heineken Cup as the world's best competition as he looks to help the Paris side to glory.
The former Ireland playmaker, who was twice successful on the European stage with Munster, in 2006 and 2008, hopes the Cup will continue.
"There's a lot of concern over the future of the European Cup and that's a worry for me," O'Gara told AFP on Thursday when talking about the Cup.
Leading English and French clubs have served notice of their intention to quit the existing set-up when the agreement governing the running of the Cup expires at the end of the season and set up their own separate competition, to which other teams from the continent have been invited.
O'Gara, who is the competition's highest points scorer, with 1,365 points racked up in 110 matches - also a record, insisted: "In my opinion, it's the best tournament in the world.
"In Ireland, it counts for even more than the Six Nations, there's a very great love for this competition.
"It's a great worry in Ireland. Everyone agrees that we must change the rules for qualification etc... The French and English want more money? No problem. The ERC must accept to give them more money.
"It's important to change one or two things, but not change the whole competition.
"It's important to have a compromise. If we lose this competition, it'll be a great loss. I hope everyone likes this competition and that we find a solution."