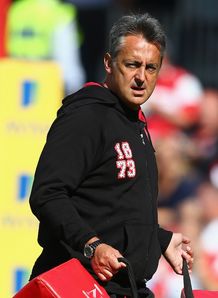 Related links
Teams
Gloucester boss Nigel Davies praised his side's mental strength as they fought back to claim a 22-16 victory over Newcastle at Kingston Park on Sunday.
"Newcastle came out really strong which we knew they would and they scored a well-worked try which added pressure to us," he said.
"But the key for me was we've got to change our mindset as a team and to come away to places like Newcastle, come under pressure and come through - it's really important.
"It helps to change the mindset of the team and it was a huge game in those terms.
"Some teams have DNA that's built into them and they don't fare well against certain sides.
"I think it's the first time in seven or eight years that we have come away and won and that is hugely psychologically significant."
Both sides were guilty of wasting several chances and the Falcons were denied a last-gasp try as Sean Tomes was held up on the line.
Gloucester took the lead for the first time in the game midway through the second half and finished stronger to claim their second league win of the season.
"We managed the territory well in the second half," Davies added.
"There was a strong wind which allowed us to do that and it's a frustrating place to be as I felt we created a lot of opportunities but we struggled to finish off and because of that Newcastle had a shot to come through at the end and get the result.
"They gave us a great game today."
Newcastle director of rugby Dean Richards bemoaned his team's lack of control after they squandered their early lead.
"We had a lot of possession we just didn't know how to use it. If you can't do that you will never win a game," he said.
"You have to replicate that time and time again and unfortunately we don't seem to be able to do that time and time again. That comes back to control and energy as well.
"Some of the boys aren't quite fit enough and a couple of the boys are carrying bugs from last week as well and we just need to make sure we look at ourselves in the eye and go out and train and play as we train."