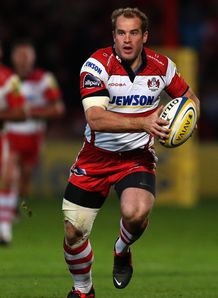 Related links
Teams
Gloucester wing James Simpson-Daniel has admitted he would reject an offer of an England call-up should Stuart Lancaster come calling.
The 31-year-old, who has played his club rugby at Kingsholm since 2001, has won just ten caps for his country - to the surprise and chagrin of many who trumpet his abilities.
His last involvement with the national side came under Martin Johnson in the build-up to the 2011 World Cup, but Simpson-Daniel was released from the wider squad prior to the tournament warm-up fixtures.
After years of international disappointment, the winger admits his instinct would be to say no if called-upon for England duty, even were his country decimated by injury.
"I've had a lot of years of going down to England training on a Sunday night and holding tackle bags and wearing tackle suits and then coming back to Gloucester on the Tuesday, and never getting the appearance on the weekend for the international team," Simpson-Daniel told The Rugby Paper.
"There was a lot of back and forth, back and forth. Thankfully, it never really affected me, I've always been able to just concentrate on the club.
"England has gone now. Even if they'd come along last season I'm not sure if I'd have been available. I've got a young child now and another on the way and I'm quite happy here. I'm really happy just playing for the club.
"You never say never but even if every winger dropped down and they rang, even then I don't think I'd be available."
Despite another bright start to this season's Premiership campaign, Simpson-Daniel is coming to terms with entering the twilight of his playing career. He underwent two shoulder operations last year, and believes the time is right to consider his last club contract.
"I've started to think about it now. I've still got this season on my contract and I'd certainly want another one, it's just how long - whether I go for a two-year or three-year," added Simpson-Daniel.
"The argument is that until I got injured halfway through last season, I was playing arguably my best rugby, as close to the best I've ever done in my career.
"If I can stay fit and get my form good this season hopefully that will line me up for another two or three years.
"That would take me up to 33 or 34 and for a winger there's going to be a moment when the young lads come in and your body and mind are probably going to start to slow. But I'm not there yet.
"The closest I've ever been to leaving Gloucester was at my last contract negotiation. I looked around a French club but I was relieved and happy when I made the decision to stay.
"I'd like to stay here. If I'm happy with what the club offer me then I don't see why I wouldn't stay, unless something changes on the outside. I love it here, it's my 13th season. I'll always be happy here."