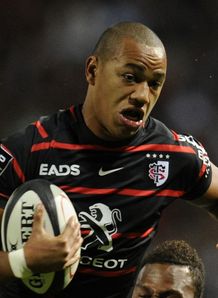 Toulouse bounced back from a poor start to their Top 14 season with a five-try victory over struggling Biarritz.
Clermont moved to the top of the standings but failed to secured a bonus point in their win over Grenoble.
Racing Metro scored their first win on the road this term, battling past Bayonne.
In the capital, Stade Français continued their strong start with victory over Brive, despite being outscored two tries to one.
Results:
Perpignan 28-16 Montpellier
Castres 22-15 Toulon
Bordeaux 35-10 Oyonnax
Clermont 27-13 Grenoble
Stade Français 25-18 Brive
Toulouse 31-7 Biarritz
Bayonne 16-19 Racing Metro
---
Union Bordeaux-Bègles 35-10 US Oyonnax
Stade André Moga, Bègles
In pouring rain, Bordeaux-Begles bagged a bonus point as they ran in five tries to one from visitors Oyonnax to climb away from the drop zone and relieve some pressure.
Australian wing Blair Connor grabbed a brace of tries while Fijian full-back Metuisela Talebula, centre Julien Rey and flanker Louis-Benoit Madaule also crossed for the hosts in a commanding win.
The scorers:
For Bordeaux-Bègles:
Tries: Connor 2, Talebula, Rey,Madaule
Cons: Bernard 5
For Oyonnax:
Try: Nemecek,
Con: Barnard
Pen:Barnard
Yellow cards: Jenneker, Browne
Bordeaux-Bègles: 15 Bruce Reihana, 14 Metuisela Talebulamaijaina, 13 Charles Brousse, 12 Julien Rey, 11 Blair Connor, 10 Pierre Bernard 9 Emmanuel Saubusse, 8 Taiasina Tuifua, 7 Hugh Chalmers, 6 Louis benoit Madaule, 5 Alikisio Fakate, 4 Jandre Marais, 3 Albert Toetu, 2 Clement Maynadier, 1 Jean Batiste Poux,
Replacements: 16 Benat Auzqui, 17 Jefferson Poirot, 18 Matt Graham, 19 Poutasi Luafutu, 20 Matthew Clarkin, 21 Rafael Carballo, 22 Darly Domvo, 23 Salemane Sa.
Oyonnax:15 Florian Denos, 14 Tikiko Koroivoutu, 13 Guillaume Bousses, 12 Pierre Aguillon, 11 Jean Francois Coux, 10 Conrad Barnard, 9 Fabien Cibray, 8 Viliami Maafu, 7 Valentin Ursache, 6 Scott Newlands, 5 Damien Lagrange, 4 Miroslav Nemecek, 3 Marc Clerc, 2 Jody Jenneker, 1 Antoine Tichit,
Replacements: 16 Lukas Rapant, 17 Clement Baiocco, 18 Damian Browne, 19 Christophe Andre, 20 Agustin Figuerola, 21 Benjamin Urdapilleta, 22 Roimata Hansell Pune, 23 Erwan Iapteff.
---
ASM Clermont Auvergne 27-13 FC Grenoble
Parc des Sports Marcel Michelin, Clermont Ferrand
An uninspired Clermont unit overcame a slow start to claim another win at home and move to the top of the table.
However, a last minute try from Grenoble prop Kevin Goze denied Clermont the attacking bonus point. It was, however, a quick return to form for the Top 14 favourites, who lost at Stade Français last week.
in wet conditions, two second-half tries from France international number eight Damien Chouly, as well as a first half penalty try, saw them to victory while Grenoble had Australian lock Ben Hand red-carded 16 minutes from time.
The scorers:
For Clermont:
Tries: Penalty try, Chouly 2
Cons: Parra 3
Pens: Parra 2
Yellow card: Lapandry
For Grenoble:
Try: Goze
Con: Caminati
Pens: Caminati 2
Yellow card: Hart,
Red card: Hand
Clermont:15 Lee Byrne, 14 Jean Marcellin Buttin, 13 Regan King, 12 Wesley Fofana, 11 Naipolioni Nalaga, 10 Gavin Hume, 9 Morgan Parra, 8 Damien Chouly, 7 Gerhard Vosloo, 6 Julien Bonnaire, 5 Loic Jacquet, 4 Jamie Cudmore, 3 Daniel Kotze, 2 Ti'i Paulo, 1 Thomas Doming.
Replacements: 16 Benoit Cabello, 17 Raphael Chaume, 18 Nathan Hines, 19 Alexandre Lapandry, 20 Thierry Lacrampe, 21 Ludovic Radosavljevic, 22 Benson Stanley, 23 Clement Ric.
Grenoble:15 Julien Caminati, 14 Matthieu Nicolas, 13 Rudolf Coetzee, 12 Olly Barkley, 11 Florian Ninard, 10 Blair Stewart, 9 James Hart, 8 Florian Faure, 7 Jonathan Best, 6 Benjamin Hand, 5 Andrew Farley, 4 Hendrik Roodt, 3 Richard Choirat, 2 Anthony Hegarty, 1 Kenan Mutapcic,
Replacements: 16 Romain David, 17 Vincent Campo Castillo, 18 Naude Beukes, 19 Cedric Beal, 20 Jordan Michallet, 21 Fabien Gengenbacher, 22 Mathieu Loree, 23 Kevin Goze.
---
Stade Français Paris 25-18 CA Brive Corrèze Limousin
Stade Jean Bouin, Paris
Stade Français had full-back Jerome Porical to thank as he landed six penalties and a conversion in their win over promoted Brive that took them up to joint second, level with Toulon.
South African centre Meyer Bosman scored the hosts' only try on 58 minutes while Fijian winger Venione Voretamaya and hooker Guillaume Ribes crossed for the visitors.
More to follow...
The scorers:
For Stade Français:
Try: Bosman,
Con: Porical
Pens: Porical 6
Yellow card: Taulafo
For Brive:
Tries: Voretamaya, Ribes
Con: Laranjeira
Pens: Germain 2
Yellow card: Voretamaya
Stade Français :15 Jerome Porical, 14 Waisea Vuidravuwalu, 13 Geoffrey Doumayrou, 12 Meyer Bosman, 11 Julien Arias, 10 Jules Plisson, 9 Jerome Fillol, 8 Sergio Parisse, 7 Pierre Rabadan, 6 Antoine Burban, 5 Gerhard Mostert, 4 Alexandre Flanquart, 3 Davit Kubriashvili, 2 Remi Bonfils, 1 Heinke van der Merwe,
Replacements: 16 Aled De malmanche, 17 David Attoub, 18 Anton Van zyl, 19 Scott Lavalla, 20 Richard Kingi, 21 Paul Williams, 22 Djibril Camara, 23 Sakaria Taulafo.
Brive:15 Gaetan Germain, 14 Venione Voretamaya, 13Andrew Mailei, 12 Riaan Swanepoel, 11 Elia Radikedike, 10 Romain Sola, 9 Thomas Sanchou, 8 Sisar Koyamaibole, 7 Hugues Briatte, 6 Petrus Hauman, 5 Olivier Caisso, 4 Dominiko Waqaniburotu, 3 Kevin Buys, 2 Francois da Ros, 1 Johannes Coetzee,
Replacements: 16 Guillaume Ribes, 17 Karlen Asieshvili, 18 Arnaud Mela, 19 Kieran Murphy, 20 Damien Neveu, 21 Thomas Laranjeira, 22 Alfifeleti Mafi, 23 Tamato Leupolu.
---
Stade Toulousain 31-7 Biarritz Olympique
Stade Ernest Wallon, Toulouse
Toulouse bounced back to form in style - for one half at least - as they crushed rock bottom Biarritz.
Tries from former New Zealand wing Hosea Gear, flanker Gregory Lamboley, Samoan prop Census Johnson and hooker Christopher Tolofua had put Toulouse over the hill and out of sight at the break, leading 26-0.
The second half was a more competitive affair as Toulouse went to sleep and Biarritz pulled a try back through Wales wing Aled Brew before centre Gael Fickou rounded off the four-time European champions' scoring.
Afterwards, Toulouse manager Guy Novès claimed the second half was so poor that he was "bored".
The scorers:
For Toulouse:
Tries: Gear, Lamboley, Johnston, Tolofua, Fickou
Cons: Beauxis 3
Yellow card: Johnston
For Biarritz:
Try: Brew
Con: Peyrelongue
Yellow card: Guyot, Molcard, Synaeghel
Toulouse:15 Clement Poitrenaud, 14 Yoann Huget, 13 Florian Fritz, 12 Gael Fickou, 11 Hosea Gear, 10 Lionel Beauxis, 9 Sebastien Bezy, 8 Gillian Galan, 7 Yacouba Camara, 6 Gregory Lamboley, 5 Joe Tekori, 4 Yoann Maestri, 3 Census Johnston, 2 Christopher Tolofua, 1 Schalk Ferreira,
Replacements: 16 Martinus van der Heever, 17 Cyril Baille, 18 Romain Millo Chlusky, 19 Yannick Nyanga , 20 Jean marc Doussain, 21 Luke Mcalister, 22 Timoci Matanavou, 23 Yohan Montes.
Biarritz:15 Paul Couet, 14 Takudzwa Ngwenya, 13 Geoffrey Sella, 12 Kevin Haget, 11 Teddy Thomas, 10 Julien Peyrelongue, 9 Luix Roussarie, 8 Ueleni Fono, 7 Tanguy Molcard, 6 Benoit Guyot, 5 Addison Lockley, 4 Joshua Furno, 3 Eugene van Staden, 2 Romain Ruffenach, 1 Fabien Barcella,
Replacements: 16 Jean Philippe Genevois, 17 Thomas Synaeghel, 18 Pelu ian Taele, 19 Alban Placines, 20 Dimitri Yachvili, 21 Benoit Baby, 22 Aled Brew, 23 Francisco Gomez Kodela
---
Aviron Bayonnais 16-19 Racing-Métro 92
Stade Jean Dauger, Bayonne
A crucial win for Racing, who climb back into the top half of the standings while Bayonne's losing bonus point takes them one clear of the relegation zone.
In driving rain, the power of the Racing scrum proved influential while Jonathan Sexton's boot kept the scoreboard ticking.
It was 6-all at half time and Bayonne moved ahead early in the second period but Racing number eight Camille Gerondeau's try on the hour mark proved to be the winning score.
The scorers:
For Bayonne:
Try: Fa'aoso
Con: Bustos Moyano
Pens: Bustos Moyano 3
For Racing-Métro:
Try: Gerondeau
Con: Sexton
Pens: Sexton 4
Bayonne:15 Scott Spedding, 14 Martin Bustos Moyano, 13 Joe Rokocoko, 12 Gabiriele Lovobalavu, 11 Marvin O'Connor, 10 Matthieu Ugalde, 9 Mike Phillips, 8 Opeti Fonua, 7 Julien Puricelli, 6 Mark Chisholm, 5 Lisiate Faaoso, 4 Dewald Senekal, 3 Nemiah Tialata, 2 David Roumieu, 1 JC Janse van Rensburg.
Replacements: 16 Gregory Arganese, 17 Aretz Iguiniz, 18 Abdellatif Boutaty, 19 Guillaume Bernad, 20 Stephen Brett, 21 Manu Ahotaeiloa, 22 Guillaume Rouet, 23 Vitolio Manukula.
Racing-Métro: 15 Benjamin Fall, 14 Adrien Plante, 13 Henry Chavancy, 12 Fabrice Estebanez, 11 Marc Andreu, 10 Jonathan Sexton, 9 Maxime Machenaud, 8 Camille Gerondeau, 7 Bernard le Roux 6 Wenceslas Lauret, 5 Francois van der Merwe 4 Karim Ghezal, 3 Brian Mujati, 2 Dimitri Szarzewski, 1 Davit Khinchagishvili,
Replacements: 16 Virgile Lacombe, 17 Luc Ducalcon, 18 Fabrice Metz, 19 Masinivanua Matadigo, 20 Laurent Magnaval, 21 Jonathan Wisniewski, 22 Alexandre Dumoulin. 23 Soane Tonga'uiha.