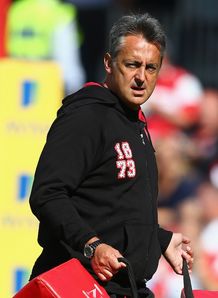 Related links
Teams
United States wing Luke Hume believes he has what it takes to make it in the Premiership and wants to prove it at Gloucester.
The Australian born flyer has impressed during his trial period, scoring one try and creating another in Gloucester United's 34-3 A League victory over Worcester Cavaliers at Kingsholm on Monday.
The 25-year-old rugby league convert, who has represented the Eagles in the 15-man and Sevens code, may be presented with an opportunity at the Cherry and Whites due to Shane Monahan's dislocated shoulder which will keep him sidelined for three months.
Gloucester boss Nigel Davies has given trials to a number of players in the last few weeks in an attempt to recruit some cover. Hume will however be confident that his finishing attributes will give him the inside track to a permanent move.
"I think I can play in the Premiership, and I'd love the chance to do that here," Hume told The Gloucester Citizen.
"This club has got a lot of depth in the back-three, but it's a great club, and I'd love to stay. It's in the big man's hands now, so to speak.
"I've been staying with Henry Trinder and Martyn Thomas for the week.
"They were saying they would have a chat to Nigel on the sly, and then do the Gladiator thumbs up or thumbs down to me to let me know what's going on!
"I just hope I've done enough to be given some more time here. I just want to play at the highest level that I'm capable of. Sevens was great, the circuit was fantastic, but I want to settle down now and find a place.
"Wherever I could find a home would be great - but I would love it to be Gloucester, and that's why I came for the trial in the first place."
Hume explained that rugby in the United States is growing stronger, but it still isn't at the level of England's top clubs and he wants to test himself against the best.
"I think rugby will really take off in the US soon, they will throw some cash at it in the next few years," said Hume.
"But you've got to start from the grassroots, because Americans don't want to see foreigners - obviously I'm Australian.
"They don't want to see Australians, Welsh, English, playing rugby in their country, without the Americans too.
"That's the big thing, foreigners will keep the standard high while they build and improve, but you need local Americans, and the talent is quite good now.
"I think our club team would probably compete at the lower end of the Championship.
"That's not bad really, but hopefully it will keep rising."