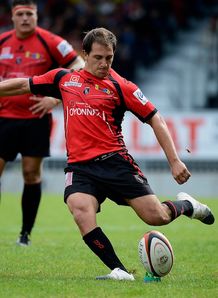 A dramatic interception try by Silvere Tian clinched another impressive win for Oyonnax over champions Castres.
Tian's late strike and 14 points from the boot of Benjamin Urdapilleta gave the promoted team another win at home, having previously defeated Clermont and Biarritz.
Toulon picked up an away win against Biarritz thanks to a big contribution from Matt Giteau, whilst Valentin Courrent and Julian Caminati kicked seven penalties between them for Grenoble to defeat Bordeaux-Begles.
Stade Français rounded out the day's action with a 23-16 at the Stade Jean Bouin against Clermont.
Earlier in the day, Montpellier nilled Toulouse at home in a resounding 25-0 victory.
Results:
Sunday, September 8:
Montpellier 25-0 Toulouse
Brive 17-10 Bayonne
Biarritz 13-24 Toulon
Grenoble 21-14 Bordeaux-Begles
Oyonnax 19-9 Castres
Racing Metro 19-16 Perpignan
Stade Français 23-16 Clermont
---
CA Brive-Corrèze 17-10 Aviron Bayonnais
Stade Amédée-Domenech, Brive-la-Gaillarde
Scoreless until the second half, Brive were eventual winners at home thanks to two tries from Guillaume Namy and Riaan Swanepoel,
Fly-half Romain Sola's drop goal in the 69th minute was enough to guarantee victory for the hosts, with replacement prop Gert Muller's try coming all too late.
Dismal conditions affected the performances as both sides as tempers boiled, with first Petrus Hauman and then Joe Rokocoko sent to the bin on either side.
In the end Brive, who showed far greater invention offensively after the break, were worthy of their win.
The scorers:
For Brive:
Try: Namy, Swanepoel
Cons: Germain 2
Drop Goal: Sola
Yellow Card: Hauman
For Bayonne:
Try: Muller
Con: Bustos Moyano
Pen: Bustos Moyano
Yellow Card: Rokocoko
Brive: 15 Laurent Ferreres, 14 Guillaume Namy, 13 Arnaud Mignardi, 12 Riaan Swanepoel, 11 Gaetan Germain, 10 Romain Sola, 9 Jean baptiste Pejoine, 8 Sisaro Koyamaibole, 7 Dominiko Waqaniburotu, 6 Petrus Hauman, 5 Arnaud Mela, 4 Julien Ledevedec, 3 Patrick Barnard, 2 Guillaume Ribes, 1 Goderzi Shvelidze,
Replacements: 16 Francois Da ros, 17 Karlen Asieshvili, 18 Olivier Caisso, 19 Hugues Briatte, 20 Thomas Sanchou, 21 Thomas Laranjeira, 22 Elia Radikedike, 23 Kevin Buys,
Bayonne: 15 Scott Spedding, 14 Martin Bustos moyano, 13 Joe Rokocoko, 12 Gabiriele Lovobalavu, 11 Marvin O'Connor, 10 Stephen Brett, 9 Mike Phillips, 8 Opeti Fonua, 7 Julien Puricelli, 6 Jean Monribot, 5 Lisiate Faaoso, 4 Dewald Senekal, 3 Nemiah Tialata, 2 David Roumieu, 1 Aretz Iguiniz,
Replacements: 16 Gregory Arganese, 17 JC Janse van Rensburg, 18 Abdellatif Boutaty, 19 Dwayne Haare, 20 Guillaume Rouet, 21 Manu Ahotaeiloa, 22 Matthieu Ugalde, 23 Gert Muller.
Referee: Patrick Pechambert
---
Biarritz Olympique 13-24 RC Toulonnais
Parc des Sports d'Aguilera, Biarritz
Biarritz's concerning start to the season continued as they were defeated by Toulon at home.
Matt Giteau's introduction for Jonny Wilkinson in the 44th minute proved influential, as the former Australia international scored his side's second try and added two penalties and a conversion.
The visitors only lead narrowly at the break, Wilkinson's six points keeping them ahead before the ex-England fly-half departed having earlier taken a knock.
Flanker Ueleni Fono did notch up a try for Biarritz in the second half, but Biarritz were always behind after Dimitri Yachvili's yellow card in the first half.
France international centre Maxime Mermoz made the breakthrough with a try in the second half, Giteau the creator.
The result keeps Toulon floating around the top of the league, with Biarritz wallowing at the bottom.
For Biarritz:
Try: Fono
Con: Yachvili
Pens: Yachvili 2
Yellow Card: Yachvili
For Toulon:
Tries: Mermoz, Giteau
Con: Giteau
Pens: Wilkinson 2, Giteau 2
Biarritz: 15 Joe Pietersen, 14 Takudzwa Ngwenya, 13 Benoit Baby, 12 Damien Traille, 11 Teddy Thomas, 10 Daniel Waenga, 9 Dimitri Yachvili, 8 Raphael Lakafia, 7 Ueleni Fono, 6 Benoit Guyot, 5 Pelu ian Taele, 4 Erik Lund, 3 Francisco Gomez Kodela, 2 Jean Philippe Genevois, 1 Alexandre Menini,
Replacements: 16 Romain Ruffenach, 17 Eugene Van staden, 18 Addison Lockley, 19 Tanguy Molcard, 20 Luix Roussarie, 21 Julien Peyrelongue, 22 Paul Couet lannes, 23 Benedict Broster,
Toulon: 15 Delon Armitage, 14 David Smith, 13 Mathieu Bastareaud, 12 Maxime Mermoz, 11 Rudi Wulf, 10 Jonny Wilkinson, 9 Michael Claassens, 8 Steffon Armitage, 7 Pierrick Gunther, 6 Virgile Bruni, 5 Jocelino Suta, 4 Bakkies Botha, 3 Carl Hayman, 2 Sebastien Bruno, 1 Andrew Sheridan,
Replacements: 16 Benjamin Noirot, 17 Xavier Chiocci, 18 Danie Rossouw, 19 Facundo Isa, 20 Alexis Palisson, 21 Josua Tuisova, 22 Matt Giteau, 23 Martin Castrogiovanni.
Referee: Sébastien Minery
---
FC Grenoble 21-14 Union Bordeaux-Bègles
Stade Lesdiguières, Grenoble
Tries were not essential to Grenoble's success, as they saw off Bordeaux-Bègles thanks to seven penalties.
Scrum-half Valentin Courrent was at hand to land five penalties for the hosts, with the other two successful attempts.
Outside centre Charles Brousse scored the only try of the match for the visitors thanks to quick distribution five metres out from the line.
Bordeaux-Bègles' other points came from the boot of number nine Emmanuel Saubusse, with three penalties.
For Grenoble:
Try:
Con:
Pens: Courrent 5, Caminati 2
For Bordeaux-Bègles:
Try: Brousse
Con:
Pen: Saubusse 3
Grenoble: 15 Benjamin Thiery, 14 Matthieu Nicolas, 13 Rudolf Coetzee, 12 Geoffroy Messina, 11 Julien Caminati, 10 Blair Stewart, 9 Valentin Courrent, 8 Florian Faure, 7 Jonathan Best, 6 Roland Bernard, 5 Benjamin Hand, 4 Naude Beukes, 3 Dayna Edwards, 2 Vincent Campo Castillo, 1 Albertus Buckle,
Replacements: 16 Kenan Mutapcic, 17 Anthony Hegarty, 18 Andrew Farley, 19 Cedric Beal, 20 Flavien Nouhaillaguet, 21 Olly Barkley, 22 James Hart, 23 Richard Choirat,
Bordeaux-Bègles: 15 Darly Domvo, 14 Rafael Carballo, 13 Charles Brousse, 12 Jean Baptiste Lamotte, 11 Robert Lilomaiava, 10 Romain Lonca, 9 Emmanuel Saubusse, 8 Poutasi Luafutu, 7 Jean Lespinasse, 6 Gautier Gibouin, 5 Adam Jaulhac, 4 Cameron Treloar, 3 Salemane Sa, 2 Clement Maynadier, 1 Jefferson Poirot,
Replacements: 16 Benat Auzqui, 17 Jean Batiste Poux, 18 Alikisio Fakate, 19 Matt Graham, 20 Marco Tauleigne, 21 Gilen Queheille, 22 Jean baptiste Peyras loustalet, 23 Albert Toetu.
Referee: Cedric Marchat
---
Racing-Métro 92 v USA Perpignan
Stade Yves Du Manoir - Colombes (Paris)
A penalty shootout between Jonathan Sexton and Tomasso Allan was punctuated thanks to try from Benjamin Fall.
The former France winger's score was confirmed by the TMO in the 51st minut to give Racing breathing space in an edge contest.
Perpignan's away form has been disappointing so far this season but they were persistent in Paris, earning a penalty try in the second half when Wandile Mjekevu kicked through only to be pulled by Adrien Planté who was sent to the bin.
Italy international Tommaso Benvenuti also spent time in the sin bin after his high tackle, with Allan's 68th minute penalty bringing the visitors within three points but unable to take the lead.
For Racing Métro:
Try: Fall
Con: Sexton
Pens: Sexton 4
Yellow Card: Planté
For Perpignan:
Try: Penalty
Con: Allan
Pens: Allan 3
Yellow Card: Benvenuti
Racing-Métro: 15 Benjamin Fall, 14 Adrien Plante, 13 Fabrice Estebanez, 12 Jamie Roberts, 11 Marc Andreu, 10 Jonathan Sexton, 9 Maxime Machenaud, 8 Chris Matadigo, 7 Bernard Le Roux, 6 Wenceslas Lauret, 5 Francois van der Merwe, 4 Karim Ghezal, 3 Brian Mujati, 2 Dimitri Szarzewski, 1 Soane Tonga'uiha,
Replacements: 16 Virgile Lacombe, 17 Eddy Ben Arous, 18 Fabrice Metz, 19 Camille Gerondeau, 20 Laurent Magnaval, 21 Jonathan Wisniewski, 22 Henry Chavancy, 23 Julien Brugnaut,
Perpignan: 15 Joffrey Michel, 14 Wandile Mjekevu, 13 Tommaso Benvenuti, 12 David Marty, 11 Richard Haughton, 10 Tommaso Allan, 9 Nicolas Durand, 8 Karl Chateau, 7 Luke Narraway, 6 Nicolas Rabat, 5 Romain Taofifenua, 4 Daniel Leo, 3 Paulica Ion, 2 Guilhem Guirado, 1 Kisi Pulu,
Replacements: 16 Maxime Delonca, 17 Sebastien Taofifenua, 18 Alasdair Strokosch, 19 Jean pierre Perez, 20 Tom Ecochard, 21 James Hook, 22 Jens Torfs, 23 Giorge Jgenti.
Referee: Pascal Lafon
---
SU Oyonnax 19-9 Castres Olympique
Stade Charles-Mathon, Oyonnax
They've done it again! Oyonnax, in their first ever season in the Top 14, have now defeated Clermont, Biarritz and champions Castres at home.
Last season's ProD2 champions are turning the Stade Charles-Mathon into a fortress, as they have now won all three of their home matches so far this seasons.
It means that, against all pre-season predictions, they are now well established in the top half of league.
Key to their success has been fly-half Benjamin Urdapilleta, who added 14 points through four penalties and then a late conversion.
That came after Silvere Tian's dramatic winner, an interception try after Castres were pressing deep in the hosts' 22.
Rory Kockott kicked nine points for the champions, but the loss will have stunned Castres. It shouldn't have done - Oyonnax shouldn't be taken lightly.
For Oyonnax:
Try: Tian
Con: Urdapilleta
Pens: Urdapilleta 4
For Castres:
Pens: Kockott 3
Oyonnax: 15 Florian Denos, 14 Silvere Tian, 13 Guillaume Bousses, 12 Pierre Aguillon, 11 Tikiko Koroivoutu, 10 Benjamin Urdapilleta, 9 Agustin Figuerola, 8 Viliami Ma'afu, 7 Valentin Ursache, 6 Mahamadou Diaby, 5 Thibault Lassalle, 4 Miroslav Nemecek, 3 Clement Baiocco, 2 Neil graham Clark, 1 Lukas Rapant,
Replacements: 16 Jody Jenneker, 17 Marc Clerc, 18 Damien Lagrange, 19 Christophe Andre, 20 Fabien Cibray, 21 Conrad Barnard, 22 Roimata Hansell pune, 23 Antoine Tichit,
Castres: 15 Brice Dulin, 14 Romain Martial, 13 Romain Cabannes, 12 Seremaia Bai, 11 Marcel Garvey, 10 Daniel Kirkpatrick, 9 Rory Kockott, 8 Pedrie Wannenburg , 7 Ibrahim Diarra, 6 Jan de bruin Bornman, 5 Rodrigo Capo Ortega, 4 Benjamin Desroche, 3 Mihaita Lazar, 2 Brice Mach, 1 Yannick Forestier,
Replacements: 16 Marc Rallier, 17 Michael Coetzee, 18 Christophe Samson, 19 Antonie Claassen, 20 Remi Tales, 21 Julien Tomas, 22 Paul Bonnefond, 23 Karena Wihongi,
Referee: Alexandre Ruiz
---
Stade Français Paris 23-16 ASM Clermont Auvergne
Stade Jean Bouin, Paris
The impact of redeveloped Stade Jean Bouin continued to work for Stade Français as they defeated Clermont Auvergne.
Jerome Fillol opened the scoring for Stade with a 12th minute penalty in a low-key first half, the only other points coming from the boot of Clermont's number 10 Brock James who put Clermont in front by half-time.
Both teams were reduced to 14 men after a dispute between Pascal Papé and Julien Pierre before the interval.
Scrum-half Julien Dupuy was on hand to level the scores with the boot after the interval, with Wales full-back Lee Byrne also sin-binned after taking out Waisea Vuidravuwalu off the ball.
Hugo Bonneval then found enough space to rack up the game's first try, Dupuy converting and then adding another penalty for a 16-6 lead.
Pierre made up for his sin-binning with a 67th minute try, James converting, but Stade extended their lead yet again when Julien Arias picked up a try after darting through the visitors defence, Bonneval supplying the pass.
Clermont moved into bonus point territory thanks to another James penalty with time running out and so the score remained, Stade clinching a 23-16 win.
For Stade Français:
Tries: Bonneval, Arias
Cons: Dupuy 2
Pens: Fillol 2, Dupuy
For Clermont:
Try: Pierre
Con: James
Pens: James 3
Stade Français: 15 Hugo Bonneval, 14 Waisea Vuidravuwalu, 13 Paul Williams, 12 Jonathan Danty, 11Julien Arias, 10 Jules Plisson, 9 Jerome Fillol, 8 Sergio Parisse, 7 Pierre Rabadan, 6 Antoine Burban, 5 Pascal Pape, 4 Alexandre Flanquart, 3 Rabah Slimani, 2 Laurent Sempere, 1 Heinke van der Merwe,
Replacements: 16 Remi Bonfils, 17 Sakaria Taulafo, 18 Gerhard Mostert, 19 Scott Lavalla, 20 Julien Dupuy, 21 Meyer Bosman, 22 Jerome Porical, 23 Davit Kubriashvili,
Clermont: 15 Lee Byrne, 14 Sitiveni Sivivatu, 13 Benson Stanley, 12 Wesley Fofana, 11 Uwanakaro Tawalo, 10 Brock James 9 Ludovic Radosavljevic, 8 Julien Bonnaire, 7 Alexandre Lapandry, 6 Julien Bardy, 5 Nathan Hines, 4 Julien Pierre, 3 Daniel Kotze, 2 Benjamin Kayser, 1 Thomas Domingo,
Replacements: 16 Ti'i Paulo, 17 Raphael Chaume, 18 Loic Jacquet, 19 Damien Chouly, 20 Thierry Lacrampe, 21 Regan King, 22 Jean Marcellin Buttin, 23 Clement Ric.
Referee: Christophe Berdos