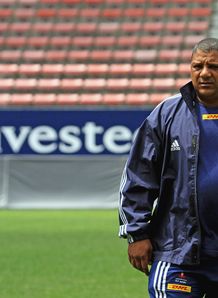 WP coach Allister Coetzee wants the co-operation enjoyed between players and coaches with the officials during the transition to the new scrum laws, to be applied to the use of technology.
"We've got the technology and we need to make sure we get it right," said after his side's 31-31 draw with the Golden Lions in Johannesburg on Friday.
"We've had good co-operation between coaches, players and officials at the scrums with the new laws, and I'd like to see that when it comes to the TMO as well."
His appeal came after a controversial penalty try was awarded against his team in their clash with the Lions.
The Lions, trailing 10-25, were awarded a penalty try by the TMO (television match official) Willie Roos, in the 48th minute, as full-back Marnitz Boshoff reached for the try-line and Western Province centre Damian de Allende dived in at the ball.
Whether or not Boshoff managed to touch the ball on the line, as he rolled over, was inconclusive on the television replays but Roos shocked both coaching teams by awarding a penalty try for De Allende's "diving in on the side and on the player".
To make matters worse for Western Province, De Allende was yellow-carded and the Lions' comeback took root.
"The yellow card was a massive moment and I don't want to say a lot about it," added Coetzee.
"But of course it had an influence and we feel the Lions were unfairly given 14 points because there was a clear knock-on in the build-up to their first try."
Everything had gone according to plan in the first half, said the coach, with Western Province leading 25-10 at the break, but his team had failed to follow through and win the match.
"We are absolutely disappointed to draw," said Coetzee.
"I was very satisfied with the first half, we executed clinically from turnovers and it went as planned."