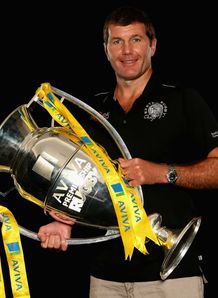 Related links
Teams
Exeter Chiefs director of rugby Rob Baxter has called on his squad to impress in their final pre-season match against Glasgow.
Baxter is likely to favour those players that were involved in last season's late surge that secured a top six spot in the Aviva Premiership.
However, Exeter have brought in seven new faces over the off-season who Baxter has conceded could force their way into the starting XV with a strong final showing on Saturday.
"I don't make any secret of the fact that I am a big believer in consistency of selection and guys who've been performing well and are deserving to start tend to get the nod," said Baxter to the Western Morning News.
"That said, there were big stand-out performances at the end of last season and people have to remember we were probably one of the form teams, if not the form team, in the last seven or eight games of the Premiership.
"We had a team that was performing successfully then, that won't be forgotten, but at the same time we have got a number of guys who have performed to such a degree so far in pre-season that they're very likely to start getting into that team.
"This weekend is another opportunity for established players to show how good they are and another opportunity for our newer guys to show they deserve to force their way, on form, into the starting line-up."
Baxter also discussed the prospect of deploying New Zealand lock Romana Graham following his arrival from Super Rugby champions, the Chiefs.
"I'm not desperate to get a lot of game time into Romana but it will be good for him to train full this week," added Baxter.
"We'll know more about exactly where he is and how much time we should give him when we see him at the end of the training week, so we'll make that decision at the weekend."