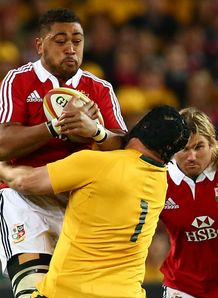 Related links
Teams
New Dragons boss Lyn Jones is set to hold contract talks with Wales and Lions number eight Toby Faletau in the coming weeks.
Faletau excelled on the British and Irish Lions tour of Australia, starting in the decisive Test and winning plenty of praise from all quarters for his performances.
The Wales number eight has been targeted by French sides and also Bath in the Aviva Premiership as a possible transfer target, but Jones has underlined his importance to the Welsh region and his preference to keep him in Wales.
"It depends on what Toby's motivations are. I met him on one occasion and he is very passionate about Gwent rugby, it was nice to hear," said Jones to WalesOnline.
"It depends on your personality and Toby is a shy character.
"I look forward to meeting with him when he comes in ext week and push things forward a bit. We have an ambition here that we can improve him.
"Money is important depending on where you are in your career. If he's intrinsically motivated and interested in money we wouldn't be able to compete with the clubs who will be in the market for him.
"One thing about staying in Wales is the regions will look after their players, which increases their chances of performing at a very high level for a long period.
"Everything comes at a price. If he goes to play in France I'm not sure if he asks his club coach for a weekend off before an international what the answer will be.
"His form dipped last season but he worked hard and came back strong during the Lions trip. He showed perhaps he is the best number eight in the British Isles at the moment."