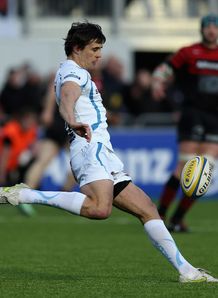 Related links
Teams
New Worcester fly-half Ignacio Mieres has settled quickly since making the move from Exeter and is enjoying his first pre-season with his new club.
Mieres has hit the ground running and is happy with Worcester boss Dean Ryan's new set-up at the Aviva Premiership club.
"What I've heard from the other guys is that the environment is very good. You can feel the good vibes around the squad," the Argentine international told the Worcester News.
"The club is, in a certain way, rebuilding itself because of so many new coaches and new players.
"They want something different and to be really successful and you can see by the hard work everyone is putting in that it's what people really want. The guys look like a really good bunch, they look really tight.
"We train very hard and you can see by watching training that everybody is giving 100 per cent and that's what we're really looking for.
"We're doing lots of training. We start in the morning with swimming, then move on to backs skills. Forwards might do scrums or line-outs as well.
"We're doing lots of weights sessions as well, one or two a day, and then we're doing rugby as well which includes attack and defence."
Worcester kick off their Premiership campaign with a daunting task against Leicester at Welford road on Sunday, September 8, but Mieres is excited by the prospect of taking on the reigning champions.
"You couldn't get a better start really against the champions at Welford Road," he added.
"I think it's the biggest challenge we're going to have - the first game.
"We're all looking forward to it and know we're going to have to work very hard to be competitive and to have chances in those kind of games, but we're doing absolutely everything we can to be the best we can.
"I remember the great atmosphere at Sixways - a big crowd supporting Worcester - and it's always a hard game for the away team. Now I'm really looking forward to playing at Sixways and I'm very excited about it."