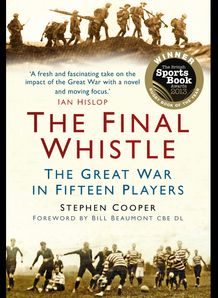 We're giving away five copies of The Final Whistle which recently won The British Sports Book 2013 Rugby Book of the Year award.
The Final Whistle is the unique and timely story of 15 men killed in the Great War. All played rugby for one London club; none lived to hear the final whistle. Rugby brought them together; rugby led the rush to war.
They came from Britain and the Empire to fight in every theatre and service, among them a poet, playwright and perfumer. Some were decorated and died heroically; others fought and fell quietly.
Together their stories paint a portrait in miniature of the entire war.
The Final Whistle: The Great War in Fifteen Players has also been shortlisted for The Times Sports Book of the Year 2013.
Help us to ensure that it is the RUGBY title that wins this prestigious award by voting here:
So, how do you win a copy? Simply answer the easy question in this week's edition of our FREE newsletter Crooked feed.
The newsletter also features a preview of this weekend's Test matches, the Junior World Championships in France and some interesting facts about the British and Irish Lions tour to Australia.
What? You're not a subscriber? That's mad!
To sign up for Planet Rugby's FREE newsletter, featuring opinions, news and competitions, all you have to do is click here and sign up to receive our fortnightly email.
The Final Whistle Ebook is available for a limited time at £7.99 here