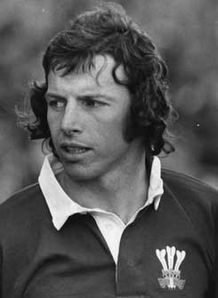 Related links
Teams
Former Wales en British and Irish Lions winger JJ Williams was delighted after being named a Member of the British Empire (MBE) in the New Year Honours list.
Williams won 30 caps for his country between 1973 and 1979 - which included two Grand Slam victories - and made seven appearances for the Lions during their tours to South Africa and New Zealand in 1974 and 1977 respectively.
He was honoured for his services to rugby and charity.
"Receiving the MBE is right up there with all the things I achieved during my playing career. It is very special and I was tremendously excited when I found out I would receive the honour.
"A lot of the players I played with in the 1970s received honours at the time and I thought maybe my chance had gone. But to have received this honour later in my life means I will cherish it that little bit more and it is very, very special for me and my family."
The 64-year-old was also actively involved with the Rugby International Players Benevolent Association, which assists those who struggle financially after their playing careers ended.
"I am particularly pleased that the charity work I have done is also a part of this, and I hope it has played a big part in it because it is something that is very important to me," he continued.
"The setting up of the Welsh Rugby International Players Benevolent Association has helped a lot of players who have suffered illness or injury in later life, and it is help that was needed as it was an amateur game when they played. I enjoy my charity work, I was fortunate to be given a good life through sport and I think it is right to give something back."