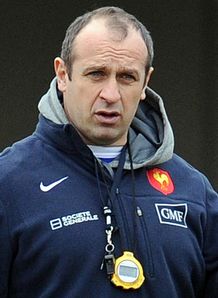 Related links
Teams
France coach Philippe Saint-Andre urged his team to reproduce the same showing against Argentina in Lille on Saturday as the one they delivered in last weekend's win over Australia.
The 45-year-old, who replaced Marc Lievremont after the 8-7 loss to the All Blacks in last year's World Cup final, kept to his theme of wanting the notoriously unpredictable French to add consistency to their repertoire.
"It is both a challenge for the coaches and the players to put together two high level performances in a row," said Saint-Andre.
"The Argentinians have rarely been as ready for the November tests than they are this year.
"Thus we have to show the same hunger, the same intensity, the same humility, to be as good all-round as we were able to be against Australia.
"In French rugby, we have always made a habit of one performance worthy of 18/20 one weekend and then the next slip to 8/20.
"It is the target that we have set: to recover during the week and to have a good week training."
Saint-Andre, whose side recorded their first victory over Australia since 2005, said there were areas where he wanted to see improvements against a Pumas side that have beaten les Bleus in eight of their last 12 meetings and are coming off a superb 26-12 win over Six Nations Grand Slam champions Wales.
"We need to improve our kicking game as against Australia we lacked length and sometimes accuracy," he explained.
"Also in terms of our offensive play, we sometimes had too many players who came to help clean out the initial ruck.
"Argentina are better than us at that. There will also be a lot more kicking to put pressure on each other. The air duels will be important.
"Everything that is played from the boot, the up and unders, the little chips behind the first defensive wall are going to be important.
"They (the Pumas) are capable of winning these balls. They are a team who know how to retain the ball, they showed that against the Welsh and they are also capable of mixing up their game."
Saint-Andre, whose relatively young side drew a two-Test series with the Pumas in Argentina in the summer, said he had recalled lock Yoann Maestri in the one change to the side that started against the Wallabies only after a long debate.
"The side were very tired after the match but by Tuesday afternoon they were fresh again," he said.
"It is what gave us a desire to see the same team play again. It is difficult for Jocelino Suta who played well against the Australians, who played all 80 minutes, but Yoann Maestri is a key player (prior to the Australia match he had played in six of the seven matches under Saint Andre) and forms a good double act with Pascal Pape.
"Against the Argentinians, we are going to need the massive presence of Maestri and Suta will be a very useful 'impact player'."