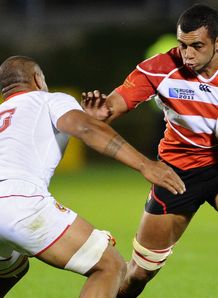 Related links
Teams
Japan coach Eddie Jones named a 30-man squad on Wednesday for a tour of Europe aimed at giving them the experience they need to achieve his goal of becoming a top-10 nation by the 2015 rugby World Cup.
The Brave Blossoms will play Test matches against Romania on November 10 and Georgia on the 17th, before taking on a Basque select team on November 21 and the French Barbarians four days later, the Japan Rugby Football Union said.
"The tour is an important step for us, going forward," the Australian coach, who took the Wallabies to the 2003 World Cup final, told Japanese media.
Jone said he wanted at least two wins on the tour.
"The two Tests will be very physical games," he said, according to Kyodo news agency.
"The majority of the Romanian and Georgian players play in the French league and if you watch that league they play Test rugby every week."
Romania are currently ranked 18th and Georgia 15th in the world, close to 16th-placed Japan.
The French Barbarians are expected to include England legend Jonny Wilkinson, currently plying his trade in Toulon.
Jones's squad includes four uncapped players and four foreign-born players.
"We picked the top 30 players," Jones said.
"We were looking at four factors - historical form, current form, potential to be a top 10 player in the world and for the team to have experience.
"Last spring our first squad had 302 caps," he added.
"This squad has 556. But if we are to be a contender, to be a top 10 nation by 2015 we need a starting XV with 500-550 caps.
"That means every player has 30 to 40 caps and is able to think under pressure, play under pressure and win under pressure."
The Brave Blossoms have had a run of defeats after winning a fifth straight Asian Five Nations crown in May.
They lost all three matches in the Pacific Nations Cup in June, when they also proved no match against the French Barbarians in two games at home.
Japan, due to host the World Cup in 2019, have taken part in every World Cup since the inaugural edition in 1987 but scored just one victory, against Zimbabwe in 1991.
Japan squad:
Backs (14): Fumiaki Tanaka (Panasonic), Atsushi Hiwasa (Suntory), Kosei Ono (Suntory), Harumichi Tatekawa (Kubota), Yuta Imamura (Kobe Steel), Akihito Yamada (Panasonic), Tomohiro Senba (Toshiba), Yu Tamura (NEC), Go Aruga (Suntory), Yasuki Hayashi (Panasonic), Hirotoki Onozawa (Suntory), Toshiaki Hirose (Toshiba), Ayumu Goromaru (Yamaha), Atsushi Tanabe (Panasonic)
Forwards (16): Hisateru Hirashima (Kobe Steel), Yusuke Nagae (Ricoh), Yusuke Aoki (Suntory), Shota Horie (Panasonic), Kensuke Hatakeyama (Suntory), Hiroshi Yamashita (Kobe Steel), Takuma Asahara (Toshiba), Hitoshi Ono (Toshiba), Shoji Ito (Kobe Steel), Toshizumi Kitagawa (Toyota), Michael Broadhurst (Ricoh), Hendrik Tui (Panasonic), Michael Leitch (Toshiba), Daiki Hashimoto (Kobe Steel), Takashi Kikutani (Toyota), Ryu Koliniashi Holani (Panasonic)