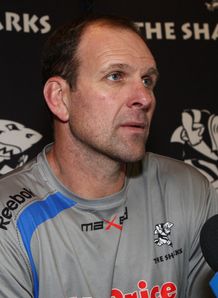 Related links
Also see
Sharks coach John Plumtree is hoping the weather in Durban plays ball so his team can put on a show for their fans in Saturday's Currie Cup Final against Western Province.
Plumtree hailed 2012 as a year he will never forget after his team moved a step closer towards a seventh Currie Cup title with victory over the Blue Bulls on Saturday.
The Sharks have already played and lost two back-to-back major finals - last year's Currie Cup against the Golden Lions, and the Super Rugby Final, when they were beaten by the Chiefs - and the Kiwi coach is hoping the weather will allow this team to play the open game they are famous for this weekend.
The bad news however is that the long-range forecast for Durban this week suggests more rain on Saturday.
"Hopefully it will be a dry weather final," Plumtree said.
"We have often been frustrated over the past month or so by having to play conservatively because the rain makes handling difficult."
"It is great for the city and we are delighted we can reward the people of our province and Sharks fans all over the country with our fourth final in four years and our third in Durban since 2008," Plumtree told The Mercury.
"At Kings Park we don't usually get the huge crowds that turn out in Cape Town and Pretoria, but a final sells out and everybody in the hospitality industry in Durban benefits. Restaurants, bars, hotels and everybody associated with sport loves a major final in Durban.
"Personally I think it is fantastic that the Sharks are maturing as a team and are consistently making finals. We just hope the weather plays ball and we get a dry field so that we can play the attractive, running rugby that we would like."
Commenting on his side's convincing victory over the Blue Bulls in the semi-finals, Plumtree said he was relieved about securing the win after he had sleepless nights in the build-up to the match.
"It's been an amazing year," Plumtree said.
"To be in a Super 15 final and then three months later to be hosting a Currie Cup final is really great.
"It's a year that I won't forget. I mean obviously we've got a big week and still need to play 80 minutes, but I'm really proud of everyone in the team, in the squad and management.
"It looked like both sides were quite nervous, especially in that first 15-20 minutes," he added.
"I was particularly pleased with that 20 minutes before half time, but after that our lineout didn't function too well and we didn't do too much of attacking in the game."
He praised his charges for their defensive efforts and for remaining disciplined on the night.
"I guess we exerted a bit of pressure and got reward for it," said Plumtree.
"We talk about our defence and discipline being good, not giving away dumb penalties. I think we did that tonight."