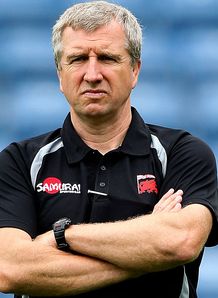 Related links
Teams
London Welsh coach Lyn Jones believes the saga over their promotion to the Premiership played a role in their loss to Leicester on Sunday.
The Exiles struggled in their 38-13 defeat at Kassam Stadium, especially in the first half when the Tigers raced into a 17-0 lead.
Jones' charges fought back bravely to trail 17-10 at half-time but Leicester's class came through in the second half when they ran in thre unanswered tries.
Welsh won the Championship last season but only won promotion to the top flight after thanks to an RFU appeals process after they were originally deemed not to meet the required off-field standards.
By the time that decision was reversed at the end of June, they faced a race against time to recruit players to stand up to the demands of the Premiership.
"What happened in the summer has been well documented, but the knock-on effect is in the detail of your game," Jones told Pres Association Sport.
"We knew we just did not have enough time to put the detail into the game. We had players knocking into each other in areas of the field where they weren't sure what they should be doing and that stood out and it cost us.
"I am not saying we were good enough to win but if we had upped our game at the line-out maybe we could have challenged for a bonus point, but we failed when we had opportunities to launch attacks."
Jones praised his charges for their showing and he is optimistic that they can improve as the season progresses.
"There is only so much tackling you can do, Leicester came in wave after wave and I was proud of the boys, they stuck in there, they gave 100 per cent and you can't ask more than that," he said.
"There was a lot of good in our game and we now have foundations to build on and it's important we develop to become a tough team to beat.
"But it might take four to six weeks until we have something we are all comfortable with."
Leicester boss Richard Cockerill was happy with his side's performance.
We come away with maximum points and it was a good workout for us, we did some good things in the first 25 minutes and some poor things in the last 15 minutes of the first half," he said.
"In the second half we were much more accurate.
"But credit to Welsh they were up for the battle and got themselves back in it and if you are not on your game they will punish you.
"We did not know what to expect from them but there is enough experience in that side and physically they were very good and made life difficult for us."