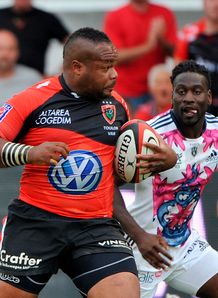 Related links
Also see
Perpignan and Biarritz face off in a crunch Top 14 relegation battle on Friday before Toulon head to the Stade de France on Saturday.
Two giants of the French game are facing the real possibility of dropping out of the elite division, making Friday's Catalan-Basque clash a potentially explosive encounter.
Toulon, meanwhile, will be looking to take a step closer to a home play-off when they face Stade Français in a gala fixture in the capital.
Championship leaders Toulouse will expect to maintain their unbeaten run at home against Agen, while Clermont face a tougher task on the road to Bayonne.
The five-way tussle to avoid relegation continues unabated with Brive and Lyon under pressure to get the job done at home to play-off contenders Castres and Racing-Métro respectively.
Fixtures:
Friday, February 17
Perpignan v Biarritz
Saturday, February 18
Bayonne v Clermont
Bordeaux-Bègles v Montpellier
Lyon v Racing-Métro
Toulouse v Agen
Stade Français v Toulon
Brive v Castres
Standings:
1 Toulouse 65
2 Clermont 59
3 Toulon 50
4 Castres 44*
5 Montpellier 44
6 Stade Français 40
7 Racing Métro 37
8 Agen 36*
9 Bordeaux 36
10 Brive 28*
11 Bayonne 27
12 Perpignan 27
13 Biarritz 25
14 Lyon 24*
*Game in hand
---
Previews:
USA Perpignan v Biarritz Olympique
Stade Aimé Giral, Perpignan
One of the midweek French headlines for this game read "there will be blood" and it's easy to understand why. The equation is simple: the losers on Friday will finish the weekend in the red zone.
Between them, these teams have won three of the last seven French titles so it boggles the mind to think that they are fighting to keep their place in the top division.
Once untouchable at home, USAP have already conceded three defeats and a draw at Stade Aimé Giral. Not that Biarritz have been great on the road, winning just twice (in Agen and Bordeaux) this season.
BO have not won in Catalogne since 2007 but have show signs of revival lately and deserved their losing bonus point against Toulouse last time out.
Perpignan welcome back Marius Tincu at hooker while Joffrey Michel steps in for Jérôme Porical at full-back.
Biarritz have been forced to shuffle their back line with Damien Traille at fly-half in the absence of Dimitri Yachvili and Julien Peyrelongue.
Perpignan: Michel, Sid, Marty, R.Coetzee, Planté, Hume, Boulogne, J.-P.Pérez, H.Tuilagi, Le Corvec, Tchale Watchou, Olibeau, Mas, Tincu, Frashwater.
Replacements: Guirado, Schuster, R.Taofifenua, Chouly, Cazenave, Mermoz, N.Laharrague, Thiart
Biarritz: Balshaw, Ngwenya, Baby, Burotu, Haylett-Petty, Traille, Lesgourgues, Gray, Harinordoquy (cap), Lauret, Taele, Thion, Gomez Kodela, August, Marconnet
Replacements: Heguy, Barcella, Carizza, R.Lakafia, Guyot, Barraque, Bolakoro, Johnstone
Previous result Perpignan won 29-24 in Biarritz
Prediction: It'll be close but we'll back the hosts. Perpignan by less than seven
Kick-off: 20.45 (19.45 GMT)
Referee: Romain Poite
---
Aviron Bayonnais v ASM Clermont Auvergne
Stade Jean Dauger, Bayonne
Victory over Stade Français in their last game came as massive boost for Bayonne in their quest to avoid relegation as they jumped three places up the standings.
But the arrival of title contenders Clermont is the last thing the Basques need as les Jaunards have been very strong on the road this season having won in Paris, Perpignan and Toulon.
Unbeaten in seven games, Clermont were convincing winners over Racing last week despite the absence of nearly half their first team due to Six Nations duty. The visitors will rest six internationals this week with only Morgan Parra and Vincent Debaty set to feature off the bench.
Bayonne will take heart from the fact that Clermont have not won at Stade Jean Dauger since 2006. They welcome back Yoann Huget and Mike Phillips but will be without Marvin O'Connor, Pepito Elhorga and Pierre-Philippe Lafond. Bayonne also have New Zealand lock Troy Flavell available as well as back-rower Julien Puricelli.
Previous result: Clermont won 19-13 at home
Prediction: Clermont have been the best team away from home this season. Clermont by five points
Kick-off: 14.15 (13.15 GMT)
Referee: Laurent Cardona
---
Union Bordeaux-Bègles v Montpellier HR
Stade André Moga, Bègles
No one expected Bordeaux-Bègles to be challenging for a play-off spot at this stage of the season but victory at home to one of their direct rivals could put les Girondins in the mix for a top-six place.
But a heavy defeat in Toulon (44-7) a fortnight ago showed UBB's limitations and they face a tough task against a Montpellier side that have won seven of their last eight games.
Indeed, Fabien Galthié's team will be looking to continue their good form on the home as they seek a fourth consecutive win away from home at take step closer to the play-offs.
We're in for a clash of styles as the hosts have the best defensive home record in the league, having conceded just three tries, but Montpol have the championship's best attacking record on the road.
Previous result: Bordeaux won 20-16 in Montpellier
Prediction: Bank another close one but the visitors' recent form is hard to ignore. Montpellier to edge it
Kick-off: 14.15 (13.15 GMT)
Referee:Christophe Berdos
---
Lyon Olympique v Racing-Métro 92
Stade Matmut, Lyon
Two clubs in need of a positive result but in the grips of off-field turmoil clash on Saturday.
Stone-last Lyon have handed the coaching reins to fly-half Xavier Sadourny, who replaces Matthieu Lazerges. Racing meanwhile have chosen to stick with Pierre Berbizier, even though his brother Philippe has resigned from his post as forwards coach.
Outplayed in Clermont last time out, Racing can no longer afford to lose ground on their rivals in the play-offs race and another defeat will leave them in a difficult situation. The same goes for Lyon, who have the worst attack in the league, and are now favourites to drop down to the ProD2.
Previous result: Racing won 25-12 at home
Prediction: On paper, Racing are in a different class, even if they have travelled badly this seasonRacing by five points
Kick-off: 14.15 (13.15 GMT)
Referee: Cédric Marchat
---
CA Brive Corrèze v Castres Olympique
Stade Amédée Domenech, Brive
Having enjoyed an extra week off due to weather postponements in their respective games, fourth-placed Castres visit Brive, who are staring down the barrel of the relegation gun.
Les Brivistes are under massive pressure to get a result this weekend as they have just four home games left this season.
Victory against Perpignan at the end of January has given Brive hope, but they will need to improve their discipline having seen 60 penalties kicked against them already. Castres are the masters of grinding out results from the kicking tee so the hosts will have to be on their best behaviour.
Brive do however have very good defence with just ten tries scored against them all season.
Good news for Castres is the arrival of Samoan international full-back James So'oailo, the brother of former All Black Rodney.
Previous result: Castres won 30-24 at home
Prediction: Castres will be happy to kick their way to victory. It won't be pretty. Castres by three points
Kick-off: 14.15 (13.15 GMT)
Referee: Jérôme Garces
---
Stade Toulousain v SU Agen
Stade Ernest Wallon, Toulouse
Unbeaten at home in over two years, Toulouse will expect to continue their run of 25 consecutive victories in the Ville Rose.
Guy Novès's team have not tasted defeat in ten games in the Top 14 so it will be major surprise it they were to tumble to an Agen side that have lost four of their last five games.
Agen will however take heart from the fact that Toulouse needed an breakaway try from Luke McAlister, after the hooter, to sneak victory when they met in Round Five.
Toulouse will have lock Romain Millo-Chluski back in the line-up after he hurt his shoulder in the win over Lyon at the start of January. They will, however, be without flanker Jean Bouilhou, loosehead Guthro Steenkamp and centre Yannick Jauzion.
Previous result: Toulouse won 24-23 in Agen
Prediction: No surprises here. Toulouse to win with a bonus point
Kick-off: 14.15 (15.15 GMT)
Referee: Stephan Pomarede
---
Stade Français Paris v RC Toulon
Stade de France, St. Denis (Paris)
Rugby returns to the national stadium on Saturday as French, Irish and Six Nations authorities continue to squabble about last week's debacle and the rescheduling of the France v Ireland clash.
Toulon visit the 80 000-seater stadium as they look to secure a place in the play-offs under the guidance of former Stade Français boss Bernard Laporte.
The hosts are undefeated in the capital this season but have not always enjoyed their delocalised games at the Stade de France, though they have won there on two occassions this season, against Clermont and Racing.
But history will not be at the forefront of coach Michael Cheika's mind. He will rather be focused on the Parisian's defence, which has the worst stats in France. That is especially concerning since Toulon have scored 94 points in their last two games....
Toulon, who are third in the table, but 14 points behind pace-setters Toulouse, welcome back loose forward Olivier Missoup, who returns from a four-month suspension for punching Montpellier's Remi Martin in a post-match brawl back September.
Previous result: Toulon won 34-8 at home
Prediction: Expect a high-scoring game. Although the hosts have outplayed by Bayonne last time out, their form at home has been impressive. Stade Français by a whisker
Kick-off: 16.15 (13.15 GMT)
Referee:Mathieu Raynal