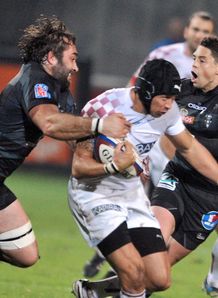 A try from Tongan replacement wing Vungakoto Lilo four minutes after the final hooter handed Bordeaux-Bègles a crucial 16-12 Top 14 win over Brive on Friday.
The result sees UBB climb up to provisional tenth place in the standings, just one point behind their visitors but with a game in hand.
The scores were locked at 6-6 at half-time after home fly-half Gerard Fraser traded penalties with Brive scrum-half Mathieu Belie.
The pattern continued in the second period until Julien Caminati put the visitors ahead with just five minutes left to play with a well struck penalty.
But Bordeaux would have the last laugh as Lilo finally broke through the Brive defence to snatch victory in a nail-biting finish.
The scorers:
For Bordeaux:
Try: Lilo
Con: Fraser
Pens: Fraser 3
For Brive:
Pens: Belie 3, Caminati
Bordeaux: 15 Bruce Reihana, 14 Rafael Carballo, 13 Julien Rey , 12 Felix Le bourhis, 11 Blair Connor, 10 Gerard Fraser, 9 Heini Adams, 7 Matthew Clarkin, 6 Daniel Leo, 5 Justin Purll, 4 Adam Jaulhac, 3 Cameron Treloar, 2 Silviu Florea, 1 Wayne Avei.
Replacements: 16 Fabien Rofes, 17 Laurent Delboulbes , 18 Hugh Chalmers, 19 Leroy Houston, 20 Julien Seron, 21 Camille Lopez, 22 Vungakoto Lilo , 23 Albert Toetu.
Brive: 15 Scott Spedding, 14 Jacques Boussuge, 13 Arnaud Mignardi, 12 Jamie Noon, 11 Ronald Cooke, 10 Riaan Swanepoel, 9 Mathieu Belie, 8 Antonie Claassen, 7 Simon Azoulai, 6 Petrus Hauman, 5 Arnaud Mela, 4 Thibault Dubarry, 3 Patrick Barnard , 2 Iuri Natriashvili, 1 Pablo Henn.
Replacements: 16 Louis Acosta, 17 Vasil Kakovin, 18 Olivier Caisso, 19 Julien Ledevedec, 20 Alexandre Bias, 21 Jean baptiste Pejoine, 22 Julien Caminati, 23 Alexandre Barozzi.