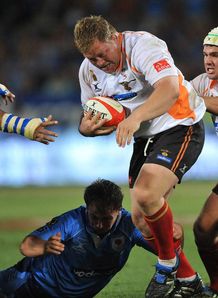 Related links
Also see
After an exciting opening week, South Africa's provincial unions resume hostilities in the Currie Cup's second round this weekend.
The big match of the round takes place in Pretoria, where the Blue Bulls host the Free State Cheetahs.
The Blue Bulls and Free State have been the two dominant forces on the South African domestic scene for the past decade.
The Pretoria-based Bulls won the tournament on four occassions since the turn of the century and Free State twice - they also shared the spoils in 2006.
Although it's very early in the competition, the home side lost 35-16 to the Sharks in their opening fixture and will be determined to bounce back in front of their partisan supporters.
However, they face a Cheetahs side who were in a rampant mood when they beat the Leopards 40-12 in their first match of the season last week.
The weekend's action kicks off on Friday when the defending champion Sharks face a tricky assignment in Polokwane against the Pumas.
In Friday's other match, last year's runners-up Western Province travel to Potchefstroom where they face the Leopards. On Saturday, the Griquas host the Golden Lions in Kimberley before the action moves to Loftus Versfeld.
Fixtures:
Friday, 22 July
Pumas v Sharks
Leopards v Western Province
Saturday, 23 July
Griquas v Lions
Blue Bulls v Free State Cheetahs
---
Pumas v Sharks
Mbombela Stadium, Polokwane
The Sharks will be keen to maintain their winning momentum against the Pumas, who showed in their narrow 31-27 defeat to the Golden Lions that they won't be pushovers this season.
During last season's campaign, the Pumas put in some fine performances at this venue including a memorable 22-21 win over the Blue Bulls.
The Sharks showed in their win last week in Durban that they are determined to hold on to the trophy. New captain Keegan Daniel led from the front against the Blue Bulls and was rewarded for his effort with a man-of-the-match award.
Daniel, who was a surprise omission from the Springbok squad for their overseas leg of their Tri-Nations campaign, shone in the leadership role and will be keen to continue where he left off against the Bulls.
The Pumas were unlucky to lose against the Lions and will make life difficult for the visitors.
The home side's forwards are expected to lay a solid platform for their exciting back-line, which contains four former Sevens Springboks.
Full-back MJ Mentz, scrum-half Shaun Venter and centres Pieter Engelbrecht and JW Jonker, have all represented South Africa at the shortened version of the game, and could prove a handful on attack for the Sharks.
Prediction: The Pumas will put up a brave fight but the Sharks are a well-balanced team and should pull this one off. Sharks by seven!
Betting odds: Pumas to win: 11/2, Sharks to win: 1/12, draw: 25/1
The teams:
Pumas:15 MJ Mentz, 14 Deon Scholtz, 13 JW Jonker, 12 Pieter Engelbrecht, 11 Ashwin Scott, 10 Ricardo Croy, 9 Shaun Venter, 8 Christo le Roux, 7 Jaco Bouwer, 6 Corne Steenkamp (c), 5 Marius Coetzer, 4 Willem Serfontein, 3 Ashley Buys, 2 Pellow van der Westhuizen, 1 De-Jay Terblanche.
Replacements:16 Torsten van Jaarsveld, 17 Brett Nel, 18 Eduan Van Der Walt, 19 RW Kember, 20 Tian Meyer, 21 Tiaan Marx, 22 Carl Bezuidenhout.
Sharks:15 Stefan Terblanche, 14 Mark Richards, 13 Marius Joubert, 12 Meyer Bosman, 11 Louis Ludik, 10 Frederic Michalak, 9 Ross Cronje, 8 Keegan Daniel (c), 7 Marcell Coetzee, 6 Jacques Botes, 5 Ross Skeate, 4 Anton Bresler, 3 Wiehahn Herbst, 2 Craig Burden, 1 Dale Chadwick
Replacements:16 Kyle Cooper, 17 Julian Redelinghuys/Eugene van Staden, 18 Jan Andre Marais, 19 Francois Kleinhans, 20 Jacobus Reinach, 21 Jacques-Louis Potgieter, 22 Sibusiso Sithole.
Kick-off:19:00 (17:00 GMT)
Referee: Mark Lawrence
---
Leopards v Western Province
Olen Park, Potchefstroom
After their 26-all draw with Griquas, Western Province will be determined to pick up a full compliment of points against the lowly Leopards.
The Cape side were dealt a heavy blow when fly-half Gary van Aswegen was ruled out for two months with a knee injury. His place has been taken by rookie pivot Demetri Catrakilis.
WP's regular scrum-half Dewaldt Duvenhage returns at the expense of Louis Schreuder while Rohan Kitshoff replaces Wimpie van der Walt on the side of the scrum.
Although WP have an inexperienced side there were some players who impressed in their opening clash of 2011. Flanker Siya Kolisi was one of the standout performers in the forwards, while Bulls-bound Johann Sadie impressed on defence and attack amongst the backs.
The Leopards are expected to struggle throughout this season's competition but like any team who are playing in front of their home crowd, they will give a one hundred per cent effort for the entire match.
This effort will depend largely on the performance of their big forwards, but if WP do dominate up front it could be a long 80 minutes at the office for the home side.
Prediction: Despite having a young and inexperienced side, last season's runners-up should have too much firepower for the Leopards. WP by 20!
Betting odds: Leopards to win: 7/1, Western Province to win: 1/16, draw: 33/1
The teams:
Leopards:15 George Tossel, 14 Danie Dames, 13 Joubert Engelbrecht, 12 Charl Weideman, 11 Vainon Willis, 10 Clayton Durand (c), 9 Whestley Moolman, 8 Morne Hanekom, 7 MB Lusaseni, 6 Philip de Wet, 5 Roan van Heerden, 4 Brendon Snyman, 3 Stephan Bezuidenhout, 2 Gavin Williamson, 1 BG Uys.
Replacements:16 Stoffel Duvenage, 17 Bêrend Botha, 18 Thabo Mamojele, 19 Christo van Niekerk, 20 Theo van Wyk, 21 Walter Venter, 22 Hoffman Maritz.
Western Province:15 Conrad Jantjes, 14 Danie Poolman, 13 Johann Sadie, 12 Tim Whitehead, 11 JJ Engelbrecht, 10 Demetri Catrakilis, 9 Dewaldt Duvenage, 8 Nick Koster, 7 Siya Kolisi, 6 Rohan Kitshoff, 5 De Kock Steenkamp, 4 Hilton Lobberts, 3 Brok Harris, 2 Deon Fourie (c) and 1 Wicus Blaauw.
Replacements:16 Tiaan Liebenberg, 17 Frans Malherbe, 18 Adriaan Fondse, 19 Nicholas Fenton-Wells, 20 Louis Schreuder, 21 Isma-eel Dollie and 22 Marcel Brache.
Kick-off:19:10 (17:10 GMT)
Referee: Lesego Legoete
---
Griquas v Golden Lions
GWK Park, Kimberley
This could be the closest match of the weekend.
Griquas showed in their 26-all draw with WP that they will not be taking a backward step to the more fancied sides, and with a fervent home crowd behind them don't be surprised if they win this game.
The men from Kimberley have made just one change to their side, with veteran wing Fabian Juries coming in for Rocco Jansen who will be out of action for six to eight weeks with a fractured hand.
Although Juries is an experienced campaigner, Jansen will be missed as he impressed in scoring a brace of tries in the draw with Province.
Golden Lions coach John Mitchell has made three changes to the team that beat the Pumas 31-27.
Michael Killian slots in at full-back in place of Jaco Taute, who is struggling with a shoulder injury while former Bok centre Waylon Murray replaces Alwyn Hollenbach in the midfield. Deon van Rensburg takes over from Dylan des Fountain on the wing.
Mitchell will expect a much-improved performance from his charges, who did not impress in their close win over the Pumas.
The match will have an interesting twist to it. Brothers Jacobie and Lourens Adriaanse, who both play as tighthead props, will be anchoring the scrums for their respective sides.
Lourens will be wearing the number three jersey for the hosts, while Jacobie packs down in the front-row for the Golden Lions.
Prediction: This result could go either way but the Lions should win a close one for the second successive week. Lions by three!
Betting odds. Griquas to win: 10/11, Golden Lions to win: 10/11, draw: 16/1 >The teams:
Griquas:15. Riaan Viljoen, 14. Richard Lawson, 13. Wilmaure Louw, 12. Barry Geel, 11. Fabian Juries, 10. Monty Dumond, 9. Shannon Rick, 8. Jonathan Mokuena (c), 7. Davon Raubenheimer, 6. Justin Downey, 5. Martin Muller, 4. Hendrik Roodt, 3. Lourens Adriaanse, 2. Ryno Barnes, 1. Steph Roberts
Replacements:16. Matthew Dobson, 17. Jean Botha, 18. Frikkie Spies, 19. Jaco Nepgen, 20. Matthew Rosslee, 21. Logan Basson, 22. Rudi Vogt.
Golden Lions:15 Michael Killian, 14 Deon van Rensburg, 13 Waylon Murray, 12 Doppies La Grange (c), 11 Lionel Mapoe, 10 Burton Francis, 9 Jano Vermaak, 8 Joshua Strauss, 7 Derick Minnie, 6 Cobus Grobbelaar, 5 Franco van der Merwe, 4 Wikus van Heerden, 3 Jacobie Adriaanse, 2 Bandise Maku, 1 Pat Cilliers.
Replacements:16 Martin Bezuidenhout, 17 JC Janse van Rensburg, 18 Johan Snyman, 19 Dries van Schalkwyk, 20 Michael Bondesio, 21 Hein Cronje, 22 Alwyn Hollenbach.
Kick-off:15:00 (13:00 GMT)
Referee: Craig Joubert
---
Blue Bulls v Free State Cheetahs
Loftus Versfeld, Pretoria
The Blue Bulls are hurting after their defeat to the Sharks in Durban last week.
This means that Free State can expect a backlash when these sides clash at fortress Loftus. However, this will not mean that the visitors will stand back to their opponents.
The Free Staters are renowned for their running game and currently possess more experienced players than the Blue Bulls (missing a host of their Springboks), especially in their back-line.
A physical encounter can be expected, and the battle between the two packs should be a fascinating one. The Blue Bulls have built a reputation as being almost invincible at their home ground, and will be eager to revert to their winning ways.
Blue Bulls coach Pine Pienaar has kept faith in the side that lost to the Sharks by naming an unchanged line-up.
The Cheetahs have just made one change to their starting XV from the side that beat the Leopards, with PW van Vuuren replacing his namesake Michael at hooker.
Matches between these two sides have been entertaining in recent years and this fixture will be no different.
With several first-choice players out injured or on Tri-Nations duty, the Blue Bulls' senior players like new captain Gary Botha and fellow Springboks Dewaldt Potgieter and Akona Ndungane will have to step up and lead their more inexperienced team-mates from the front.
Prediction: The Blue Bulls will put in a more determined effort in front of their home crowd but the Cheetahs should be victorious in what will be a hard-fought battle. Cheetahs by five!
Betting odds: Blue Bulls to win: 5/6, Cheetahs to win: evens, draw: 16/1
The teams:
Blue Bulls:15 Jurgen Visser, 14 Akona Ndungane, 13 Stephan Dippenaar, 12 Stefan Watermeyer, 11 Gerhard van den Heever, 10 Francois Brummer, 9 Dustin Jinka, 8 Gerrit-Jan van Velze, 7 Dewald Potgieter, 6 Derick Kuün, 5 Juandré Kruger, 4 Fudge Mabeta, 3 Rossouw de Klerk, 2 Gary Botha (c), 1 Corné Fourie.
Replacements:Substitutes: 16 Willie Wepener, 17 Frik Kirsten, 18 Okkie Kruger, 19 CJ Stander, 20 Ruan Snyman, 21 Marnitz Boshoff, 22 Francois Venter.
Free State Cheetahs:15 Hennie Daniller, 14 Riaan Smit, 13 Corné Uys, 12 Andries Strauss (c), 11 Rayno Benjamin, 10 Sias Ebersohn, 9 Tewis de Bruyn, 8 Boom Prinsloo, 7 Lappies Labuschagné, 6 Johan Wessels, 5 Waltie Vermeulen, 4 Francois Uys, 3 WP Nel, 2 PW van Vuuren, 1 Marcel van der Merwe
Replacements:16 Michael van Vuuren, 17 Trevor Nyakane, 18 Izak van der Westhuizen, 19 Pieter Myburgh, 20 Piet van Zyl, 21 Philip Snyman, 22 Philip Burger.
Kick-off:17:05 (15:05 GMT)
Referee: Jonathan Kaplan