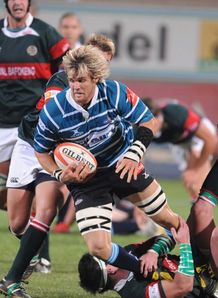 The Griquas were forced to come back from being down at half time but got the job done against the Leopards on Friday, winning 29-20 in Kimberley.
A last minute try from Griquas full-back Riaan Viljoen secured a bonus point and kept their slim Currie Cup semi-final hopes alive.
But it was the men from Potchefstroom who led 17-15 at half time.
Griquas made far too many mistakes for a team hoping to qualify for the semi-finals.
The Leopards were first on the board in the sixth minute when Walter Venter picked up the ball next to the ruck and only had two metres to run in for the first score of the evening.
A brilliant 30 metre-run by hooker Ryno Barnes set up Viljoen's first try. Barnes was brilliant all night with a few storming runs. He worked just as hard in the loose.
As so often this year, Griquas needed this score to help kick start them into action. Shortly after flanker Johan van Deventer dotted down for the hosts. It was thanks to a break by Griquas outside centre Wilmaure Louw who handed off two defenders before he was brought down centimetres short of the line. Van Deventer only had to dive over the line to score.
But a second Venter score announced the visitors presence that was evident throughout the game. They could easily have added another score or two if the ball bounced their way. Venter's second try was an even softer score.
From first phase position Venter threw a dummy which Griquas easily brought and he was under the post without a hand being laid on him. Leopards Clayton Durand converted both tries and Naas Olivierboth added a penalty kick in the first stanza.
Durand kicked his second three-pointer right from the start of the second period for a 20-15 lead. In the 53th minute a Justin Downey try for the home team levelled matters before a Olivier conversion from the right-hand corner gave the Peacock Blues a slender 22-20 lead.
Unfortunately the second 40 minutes was just as ugly as the first. It was almost a case of who was going to make the next mistake.
Griquas had a few opportunities to earn the forth and bonus point try, but kept the crowd nervous until two minutes before the end when Viljoen's try wrapped up the game.
The scorers
For Griquas:

Tries: Viljoen 2, Van Deventer, Downey
Cons: Olivier 3
Pen: Olivier
For Leopards:
Tries: Venter 2
Cons: Durand 2
Pens: Durand 2
Griquas:15 Riaan Viljoen; 14 Rocco Jansen, 13 Wilmaure Louw, 12 Barry Geel, 11 Bjorn Basson; 10 Naas Olivier (c), 9 Sarel Pretorius; 8 Burger Schoeman, 7 Justin Downey, 6 Johan van Deventer, 5 Cecil Kemp, 4 MB Lusaseni, 3 Jean Botha, 2 Ryno Barnes, 1 Steph Roberts.
Replacements: 16 Simon Westraadt, 17 Jacobie Adriaanse, 18 Edwin Hewitt, 19 Davon Raubenheimer, 20 Marnus Hugo, 21 Jean Stemmet, 22 Rudi Vogt Human.
Leopards: 15 Danie Dames, 14 Deon Scholtz, 13 Cornelius Rautenbach, 12 Walter Venter, 11 Dumisani Matyeshana, 10 Clayton Durand, 9 Tiaan Dorfling, 8 Riaan Swanepoel (c), 7 Reginald Kember, 6 Christo van Niekerk, 5 Brad Mockford, 4 Anthonie Gronum, 3 Barend van der Walt, 2 Marthinus van der Westhuizen, 1 Bennie Uys.
Replacements: 16 JC Oberholzer, 17 Johan Coetzee, 18 Edrich Linde, 19 Victor Joubert, 20 Charlie King, 21 Cecil Dumond, 22 Jovan Bowles.
Venue: GWK Park, Kimberley
Referee: Jason Jaftha