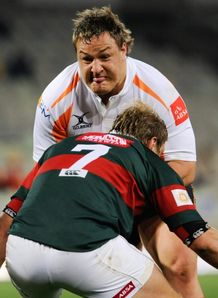 The Cheetahs bounced back from a disappointing fortnight with a resounding 57-0 win over the Leopards on Friday in the Currie Cup.
The Leopards had the upper hand early on, even out-scrumming the home side but they missed too many tackles in the last 50 minutes of the fixture, conceding seven tries in the period.
The first try came when Cheetahs prop Coenie Oosthuizen had a typical bulldozing run, but was stopped a metre short before captain Adriaan Strauss dived over.
Oosthuizen scored a similar try of his own minutes later.
The Leopards, who opted not to kick for goal when they received penalties within kicking distance - but rather to go for the five pointers - were very nearly rewarded with a try, but winger Dumisani Matyeshana was called back after touching down in the corner due to a forward pass earlier in the move.
Six minutes before the break there was a special moment when the Ebersohn twins, Sias and Robert combined nicely to score the third try of the night. Sias broke through a half-gap before offloading to his brother who ran a good angle on his way to scoring.
The second half was one-way traffic. From a quickly recycled ball the Cheetahs had too many players on the outside and lock Waltie Vermeulen unselfishly handed flanker Hendro Scholtz an easy run-in for the bonus-point try.
There were further scores from Francois Uys, Philip van der Walt, Philp Snyman and WP Nel.
The scorers:
For Cheetahs:
Tries: Strauss, Oosthuizen, Ebersohn, Scholtz, Uys, Van der Walt, Snyman 2, Nel
Cons: Meyer Bosman 6
Cheetahs: 15 Hennie Daniller, 14 Philip Snyman, 13 Robert Ebersohn, 12 Meyer Bosman, 11 Jongi Nokwe, 10 Sias Ebersohn, 9 Tewis de Bruyn, 8 Ashley Johnson, 7 Philip van der Walt, 6 Hendro Scholtz, 5 Waltie Vermeulen, 4 Francois Uys, 3 Kobus Calldo, 2 Adriaan Strauss (c), 1 Coenie Oosthuizen.
Replacements: 16 Skipper Badenhorst, 17 WP Nel, 18 David de Villiers, 19 Kabamba Floors, 20 Tertius Carse, 21 Louis Strydom, 22 Riaan Smit.
Leopards: 15 Jan van Zyl, 14 Deon Scholtz, 13 Jovan Bowles, 12 Walter Venter, 11 Dumisani Matyeshana, 10 Niell Jacobs, 9 Michael Bondesio, 8 Riaan Swanepoel, 7 Wilhelm Koch (c), 6 Christo van Niekerk, 5 Edrich Linde, 4 Brad Mockford, 3 Barend van der Walt, 2 Gavin Williamson, 1 Bennie Uys.
Replacements: 16 Marthinus van der Westhuizen, 17 Johan Coetzee, 18 Anthonie Gronum, 19 Reginald Kember, 20 Theo van Wyk, 21 Clayton Durand, 22 Mohammed Samaai.
Referee: Jason Jaftha