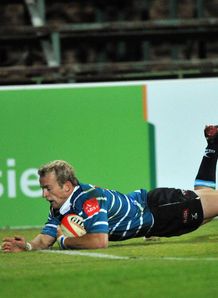 Griquas celebrated their first game under new floodlights with a resounding 58-25 win over the Pumas in a Currie Cup game played in Kimberley on Friday evening.
After suffering a 47-point loss to Western Province a week ago, Griquas got their campaign back on track.
In the process, Griquas continued their dominance over the Pumas in the Currie Cup, especially at home where they've only lost once (in 2001) since both teams made their comeback to the Premier Division in 1996.
Rocco Jansen, who was a late replacement for Bjorn Basson on the wing, finished brilliantly in the left-hand corner for the first try under the lights.
Full-back Riaan Viljoen, who had a rather disappointing game against WP started in the same fashion, grubbering a kick-through leading to a penalty for the visitors. The first time he decided to rather attack, it very nearly led to a try for his team.
It did earn them three points through the boot of Naas Viljoen who missed an earlier attempt at goal. The Pumas came to Kimberley with fight and responded with a try by fly-half Elgar Watts from the restart. After a patient build-up, lock Willem Serfontein off-loaded nicely to his Watts who had little difficulty in dotting down.
They really seemed to struggle keeping hold of the ball. The Pumas handling was more secure and on the stroke of the first quarter, Shaun Venter's pace was too much for Olivier and he ran in a converted try.
A moment of brilliance earned Griquas their second try, Olivier seemed to be playing wide, but Viljoen received a pass on the inside which caught the Pumas napping and earned them seven vital points to reduce the deficit to two points (15-17).
A Second Watts penalty made it 20-15 for the Pumas, but scrumhalf Sarel Pretorius, who once again had a standout performance, quickly tapped and scored.
Olivier's conversion gave them a narrow 22-20 lead at half-time.
Olivier kicked his second penalty of the night, but the Pumas, playing in their custom new set of jerseys after the break, levelled matters again with their third try by flanker Alwyn Bester. The lead changed hands again as Griquas score their fourth try.
Frikkie Spies muscled his way over the line for a well deserved five-pointer as he was one of the standout players on the night. That seemed to inspire Griquas to improve their performance.
They were very impressive in the last quarter, adding four more tries, including another beauty by Viljoen.
The scorers
For the Griquas:
Tries: Jansen, Viljoen 2, Pretorius 2, Spies, Kemp, Voight
Cons: Olivier 6
Pens:Olivier 2
For the Pumas:
Tries: Watts, Venter, Bester
Cons: Watts 2
Pens: Watts 2
Griquas: 15 Riaan Viljoen, 14 Bjorn Basson, 13 Matthew Rosslee, 12 Wilmaure Louw, 11 Richard Lawson, 10 Naas Olivier (c), 9 Sarel Pretorius, 8 Leon Karemaker, 7 Rohan Kitshoff, 6 Davon Raubenheimer, 5 Jacobie Adriaanse, 4 Frikkie Spies, 3 Cecil Kemp, 2 Ryno Barnes, 1 Steph Roberts.
Replacements: 16 Simon Westraadt, 17 Jean Botha, 18 Michael Passaportis/Johan van Deventer, 19 Burger Schoeman, 20 Marnus Hugo, 21 Barry Geel, 22 Rocco Jansen.
Pumas: 15 Carl Bezuidenhout, 14 Du-Wayne Smart, 13 Tiaan Marx, 12 Tian Meyer, 11 Shaun Venter, 10 Elgar Watts, 9 Jacques Coetzee, 8 Christo le Roux, 7 Alwyn Bester, 6 Corné Steenkamp (c), 5 Willem Serfontein, 4 Andries Kruger, 3 Ashley Buys, 2 Torsten van Jaarsveld, 1 Ronnie Uys.
Replacements: 16 Hannes Franklin, 17 Dee-Jay Terblanche, 18 Dawie Steyn, 19 Marius Coetzer, 20 Jaco Bouwer, 21 Ricardo Croy, 22 Bainon Willis.
Venue: GWK Park, Kimberley
Referee: Lourens van der Merwe