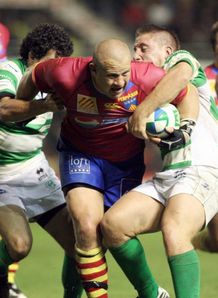 The Perpignan tight five scored four of their team's five tries as the Catalans rumbled to a 34-6 home win over Treviso on Friday.
The French champions exacted revenge for their shock loss in Treviso early this season to seal their unhappy Heineken Cup campaign with a victory.
The Italian visitors made game of it and the scores were level at 3-all at half time.
The second period however would be a different story as replacement hooker Marius Tincu barged over for a double.
More to follow...
The Scorers
For Perpignan:
Tries:Geli, Tincu 2, Vivalda, Grandclaude
Cons:Laharrague 2, Porical
Pen: Laharrague,
For Treviso:
Pens: Goosen, Botes
Yellow card: Goosen (Treviso - 40th min)
Perpignan: 15 Joffrey Michel, 14 Christophe Manas, 13 David Marty, 12 Jean-Philippe Grandclaude, 11 Farid Sid, 10 Nicolas Laharrague, 9 Florian Cazenave, 8 Henry Tuilagi, 7 Jean-Pierre Perez (capt), 6 Gerrie Britz, 5 Rimas Alvarez Kairelis, 4 Yoann Vivalda, 3 Kisi Pulu, 2 Charles Geli, 1 Sebastien Chobet.
Replacements: 16 Marius Tincu, 17 Perry Freshwater, 18 Nicolas Mas, 19 Robins Tchale Watchou, 20 David Mele, 21 Gavin Hume, 22 Jérôme Porical, 23 Damien Chouly.
Treviso: 15 Luke McLean, 14 Emiliano Mulieri, 13 Alberto Sgarbi, 12 Gonzalo Garcia, 11 Andrew Vilk, 10 Marius Goosen, 9 Simon Picone, 8 Dion Kingi, 7 Alessandro Zanni, 6 Benjamin Vermaak, 5 Cornelius van Zyl, 4 Antonio Pavanello, 3 Ignacio Fernandez Rouyet, 2 Leonardo Ghiraldini, 1 Michele Rizzo.
Replacements: 16 Franco Sbaraglini, 17 Augusto Allori, 18 Pedro di Santo, 19 Enrico Pavanello, 20 Silvio Orlando, 21 Fabio Semenzato, 22 Tobias Botes, 23 Benjamin de Jager.
Venue: Stade Aimé Giral
Referee: Peter Allan (Scotland)
Assistant referees: David Changleng (Scotland), Ronnie Dumma (Scotland)