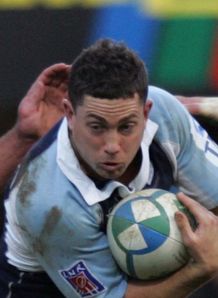 Castres ground out a 15-6 win over Bayonne on Friday to go top - for now - of the Top 14, in a match played in a mudbath.
Five penalties from the boot of Cameron McIntyre gave the Tarnats the win, although Bayonne's Benjamin Arrayet missed three shots at goal himself which could have rewarded the home side for their work.
Castres were much better in the second half, holding the ball well in greasy conditions and controlling the game. Bayonne were so limited in their approach that they were booed by their own fans at times, with Craig Gower utterly unwilling to open the game up even when Bayonne were chasing.
The teams were tied 6-6 at the break, with Castres twice taking the lead through McIntyre and twice being pegged back, first through a penalty from Arrayet and then through Craig Gower's drop goal.
Arrayet missed two more kicks as half-time approached and then one more shortly after McIntyre had given Castres the lead for the final time. That third miss seemed to knock the stuffing out of Bayonne, who had clearly planned on kicking their opposition to death.
Two quickfire penaties on the hour mark from McIntyre made the game safe and to add insult to injury, Manny Edmonds missed a late penalty for Bayonne, denying them even a bonus point, but it would have been scarcely deserved.
The scorers:
For Bayonne:
Pen: Arrayet
Drop goal: Gower
For Castres:
Pens: McIntyre 5