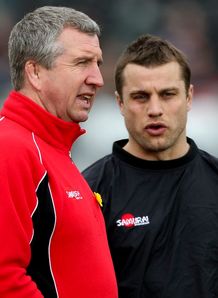 Related links
Teams
Falsified passports, forged emails and a missing rogue employee - London Welsh's points deduction is a story made for a spy novel.
The full RFU judgement, which has been published following a hearing that was extended to three days, is filled with surreptitious details that ultimately could undermine London Welsh's attempt to remain in the Premiership.
At the centre of the punishment is former London Welsh team manager Mike Scott, who is set to appear in front of his own disciplinary hearing in the near future.
Following the arrival of New Zealand scrum-half Tyson Keats in July last year, Scott covered up the initial rejection of Keats' application for an ancestry visa after signing for Welsh, before submitting a falsified player registration form to the RFU which stated that Keats had been born in England and was English.
The RFU, suspicious of Keats' nationality, asked for proof of the scrum-half's British passport from Scott back in October. After a delay, Scott submitted a forged passport to the RFU.
Furthermore, with London Welsh eager to establish Keats' squad status in order to create investment for other signings in their bid for survival, Scott was chased by then director of rugby Steve Lewis for clarification.
Scott produced doctored emails from the RFU confirming Keats status as an English Qualified Player (EQP), although his status as an EQP did not appear on the RFU database.
With the RFU waiting on Keats's birth certificate and Welsh surprised to see that Keats was still not appearing as an EQP on the RFU database, Scott failed to appear for Welsh's fixture against Grenoble.
Five days later, Scott confessed in an email to Lewis - describing the situation as "one almighty mess." He was then cautioned by the Metropolitan Police and admitted to fraud in February.
Keats was granted an ancestry visa following a second application in January, but the damage was already done.
He by then had played 10 matches for Welsh - in which the side had won 20 league points - enough for the RFU to rule that a 10-point punishment was deserved, with five suspended until next season.
Welsh will now appeal the judgement, stating that "the club was unknowingly the victim of one individual's fraudulent conduct."
The damage though feels irreparable. Welsh have won only one of their last 12 matches in all competitions - their last victory in the Premiership came against London Irish in December.
Now two points adrift at the bottom, their hopes of survival are incredibly slim. Away games at Gloucester, Bath and London Irish remain, with the Exiles also hosting Northampton and Worcester at home.
Plenty of the good work carried out by Welsh in edging them closer to safety has now been undercut from within. If the points deduction ultimately condemns Lyn Jones side to relegation, it will add another chapter to one of game's more bizarre stories in recent years.
By Ben Coles
@bencoles_