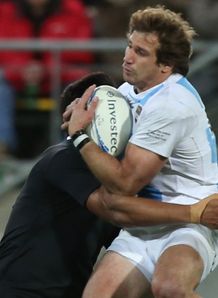 Related links
Teams
New Zealand remains undefeated in the Rugby Championship after defeating a spirited Argentina 21-5 in Wellington. Now it's time for Planet Rugby to rate the players.
15 Martin Rodriguez: Incisive running saw him make more yards than any of his teammates, but he did miss a couple of tackles and shelled a straightforward kick at goal that would have put Argentina back within a point of the All Blacks. 6/10
14 Gonzalo Camacho: Another superb game for Camacho, who has impressed with every outing in this competition. Made a good break in the first half but didn't see enough of the ball in the second. 7/10
13 Marcelo Bosch: Made a brilliant try-saving tackle on Victor Vito at the end of the first half and had a great game defensively. For the most part he was able to pull off a risky but effective strategy when New Zealand tried to spread the ball wide. 7/10
12 Santiago Fernandez: Like Bosch, Fernandez was part of a clever midfield defensive effort that often left the All Blacks frustrated. Had a couple of slick runs with ball in hand as well. 7/10
11 Horacio Agulla: Had a fairly quiet night out on the wing, but was solid when he was called upon. 5/10
10 Juan Martin Hernandez: Had a busy game defensively, but was up to the task with a really physical display - he made a memorable hit on Conrad Smith. Was solid under the high ball, and although he struggled with his up and unders in the wind, his kicking for territory was excellent. 7/10
9 Nicolas Vergallo: His box kicking was generally very good - especially given the windy conditions - and he fed runners well from the back of the breakdown. 6/10
8 Juan Martin Fernandez Lobbe: Much was made of the loss of Contepomi, but Argentina have found a brilliant, natural leader in Lobbe, who had another strong game. Made 13 tackles, was dependable at the line-out and competed well at the breakdown. 8/10
7 Juan Manuel Leguizamon: Withdrawn just one and a half minutes after the break. Didn't have the worst first half, but his replacement Leonardi was more effective than him. 5/10
6 Julio Farias Cabello: Was a trojan in the amount of defensive work he got through, and he kept the All Blacks honest at the breakdown. Was justifiably yellow-carded for a knock-down, but probably won't have any regrets given that he prevented a try. 6/10
5 Patricio Albacete: Part of a strong tight five that shaded the All Blacks over the course of the game. Albacete was particularly clinical at the line-out, winning every one. 7/10
4 Manuel Carizza: Less dependable at the line-out than his fellow lock, but equally strong in defence. Argentina's rolling mauls always made ground; New Zealand's never did. 6.5/10
3 Juan Figallo: Had a solid game - like all of the tight five - until he was withdrawn ten minutes into the second half. 6/10
2 Eusebio Guinazu: Immovable as a defender, but struggled with his line-out throwing at certain points as the wind made things difficult. 6/10
1 Rodrigo Roncero: The old warhorse continues to show the youngsters how it's done. Fearless tackling, strong running, a brilliant turnover and a try that contained power, persistence and technical know how. 9/10
Replacements:
17 Marcos Ayerza: Missed a couple of tackles after replacing Roncero ten minutes into the second half. 4/10
18 Juan Pablo Orlandi: Held up well in the scrum after coming on for Figallo. 6/10
19 Leonardo Senatore: Didn't play long enough to warrant a rating.
20 Tomás Leonardi: Had a strong half after replacing Leguizamon moments into the second half - made a heap of tackles, turned a ball over and generally made a nuisance of himself. 7/10
21 Martin Landajo: Didn't play long enough to warrant a rating.
22 Lucas Gonzalez Amorosino: Didn't play long enough to warrant a rating.