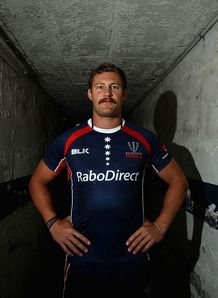 Related links
Teams
Also see
Melbourne Rebels captain Scott Higginbotham has his eyes set up topping the Australian Conference this season in Super Rugby.
The 27-year-old Australia international underwent shoulder reconstruction last year in June, but is now fighting fit and hungry ahead of the new campaign.
"We want to be top of the conference," Higginbotham told Rugby Gold.
"We're not looking to just get out there and be tough competition for other teams. We're looking to be top of the competition, and that's our challenge. All the boys are more than willing to put their hand up and have a go at that."
Higginbotham is looking for his team to get off to a fast start and kick on in order to not stay stuck around the bottom of the log for the long-term.
"You don't want to be one of those teams that start in the comp and struggle to get off the ground," added Higginbotham.
"A bit like the Cheetahs, who are doing well now but took awhile to get off the ground.
"The Force are still working their way up the ladder, and they have been in the competition for a number of years. You don't want to take too much time doing that - I think you've really got to make your mark and pick a year to build and get stuck into it."
The Rebels have enjoyed a full pre-season campaign together as a squad given that no players were away with the Wallabies in November, bonding the group closer together and making them a stronger unit in the eyes of Higginbotham.
"We didn't have any Wallabies go away this season, which is disappointing. But the positive of that is we have had a full 14-week pre-season to all train and gel together," stated Higginbotham.
"A lot of training has been about playing 15-on-15 football, so it's great to have those sort of numbers."