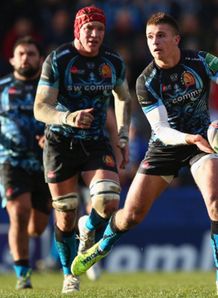 Related links
Teams
Much-vaunted fly-half Henry Slade was left gutted after his first Aviva Premiership start for Exeter Chiefs ended in a last-gasp defeat to Wasps.
20-year-old Slade's opposite number, a veteran of Premiership rugby, Andy Goode kicked a last-ditch drop-goal to give the hosts a 19-16 victory.
The youngster, who had impressed in the Heineken Cup double-header against Toulon last month, was given the nod over Gareth Steenson, and turned in a fine display, kicking 11 points.
Indeed, Slade was unlucky not to have added to his tally, his own effort to breach the Wasps' line having been ruled out by the TMO under controversial circumstances. Had a try been awarded, it was likely to have proved decisive, coming with less than ten minutes left on the clock.
"I couldn't really see the line when I dived, but apparently there is a picture showing I scored the try, but the TMO hasn't given it and there is nothing we can change about that," Slade told Western Morning News.
"After we crossed the line, we both had hold of the ball, so it was pretty hard to move it to put it down after Simpson had tackled me, so it was a tough one, but maybe right at the start, when I slid over, the ball might have been down.
"It was great to get my first Premiership start, but it was a shame about the result.
"Going in at half-time leading 13-3, I thought we could probably carry that on and play in the right areas of the pitch, but there was a spell in the second half when the game started to get away from us, our discipline wasn't the best and we couldn't really sustain any pressure in their half, and that told in the end.
"Having said that, I think we did quite well to get back with a chance to win it, but it didn't quite go our way in the end."
The Chiefs roared back in the second-half, with the wind and weather conditions favouring them heavily after the break.
"It was a bit wet and greasy out there, so the kicking battle and the forward battle were probably the most important aspects of the match," explained Slade.
"We had some good benefits from our kick-chase game in the first half, and when TJ (Tom Johnson) tackled Elliot Daly back over his own line for a scrum, we were unlucky not to come away with more points from that bit of pressure.
"In the second half it was difficult to get out of our own half, partly because of the elements and partly because of ill-discipline, but it was one of those days."
On his battle with Goode, Slade said he had relished the opportunity to take on such an established pivot.
"It was good coming up against him," added Slade.
"He is an experienced guy, he knows what he is doing, and that showed at the end with the composure he demonstrated for the drop goal.
"To be fair to him, he had a lot of pressure on him and he sunk it."