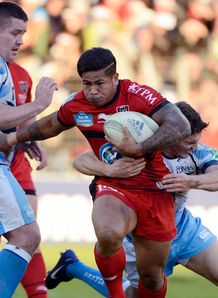 This week we will mostly be dealing with proportions, powers, naming rights and just desserts...
While in other countries the situation seems to have been brought under control, in France the issue of foreign players still appears to be one that needs looking at.
Toulon and Clermont, both by some distance now the form teams of the competition, both had over half of their starting XVs pulled from pastures distant. Toulouse had only five, but brought on a few others. Montpellier fielded eight as well, while Biarritz weighed in with five.
Meanwhile, Saracens, rarely shy of hauling in an import or two themselves, managed to line-up opposite Munster with 12 English players (leaving aside the fact that some of the players' claims to Englishness are tenuous at best), while Munster also fielded 12 Irish starters. Ulster also fielded only three non-Irish starters, Leinster two. Leicester lined up with 12 English starters as well, while the Ospreys counted 13 Welshmen in their ranks.
The clamour has grown from the UK over the financial disparity between the British and French leagues, while in France a couple of years ago the Top 14 appeared to be putting into place some mechanisms to deal at least with the complaints internally that the league was being devalued by the sheer number of journeymen.
So far, there is little evidence that these mechanisms in France are doing anything other than making sure the importers look for cheaper sources of labour, while in the UK teams are doing well to work around the economic pinch and bring up a new generation.
Of course, the logical follow-on from this would be to shrug and say: 'oh well, the French will notice the effects at national level soon enough', but this is not happening. Philippe Saint-Andre fielded many a sprightly and talented youngster over November and we all know how good France looked at times. The Six Nations is theirs for the taking right now.
Nor is there really an argument for complaining that something ought to be done. It would be nice to see a strength-on-strength league in Europe, but we're going to have to accept that it just isn't going to happen. It's also great to see teams like Clermont at full tilt, with world class in every position and on the bench.
But what is worth considering is this: France's league is in great health at the moment, with a financial clout way above what can be found on the islands, a fervent and colourful fan base and a posse of teams poised to run riot in Europe.
While all the sides wrangle over the future of the Heineken Cup - nothing was once again comprehensively decided this week - it would do all the politicos well to think about this. If French rugby continues to dominate in this way, the most powerful negotiating position in terms of Europe is on the French side...
---
Greg Peters is right to remain non-committal on the new TMO powers currently being trialled in the Aviva Premiership and Currie Cup.
He is also right to say that there needs to be very clear guidelines on: "...things like who initiates the review, the referee or the TMO? How far do you go back in the movement? Was there foul play downfield, was there a forward pass back on the 22m and if it was a line-ball you have to take the camera angle into account too."
Not that we are particularly against the TMO powers being extended, but it would be a dreadful mistake to empower players to ask for TMO referrals. You can only begin to imagine how that privilege might be abused.
Increasing TMO jurisdiction also takes the onus away from the decision-making on the field, as we have seen so far in the Premiership where assistants and referees have frequently gone upstairs to get some remarkably clear-cut decisions confirmed.
Asking for referrals on fights or serious foul play? Yes. An instant deterrent to a player who thinks about going in fists flying. Referrals on the act of scoring? So far so good. Referrals perhaps on the final phase of play leading up to the try? Not a bad thing. That's where it ends. People on the pitch are employed to make the calls and be accountable for them. It's part of the game. leave them to it.
---
The Brumbies have the Larkham-Gregan stand, it's infeasible to think that when their careers are done, Richie and Dan won't have a corner of Christchurch named after them somewhere...
Meanwhile in Perth, a movement is gathering for naming rights too.
The new stand being hoisted at the NIB stadium is yet to be christened, but a wave of supporters are petitioning for it to be named after the Force's most stalwart player in its short history: Nathan Sharpe.
In the light of the frequent gushes of praise lavished upon Sharpie by this column, you'll no doubt be not at all surprised to find out that we think this is a fantastic idea.
So should you agree with us, have a little visit here and add your voice to the masses...
---
How quickly things come around.
Penalty Saracens, followed by a bit of afters childishly started by Owen Farrell, who having sparked the handbags stepped back and threw his hands up in the hair with a true 'ice-cream wouldn't melt in my armpits' expression all over his face.
Jerome Garces then proceeds to move over to the captains and issue some rather rudimentary and heavily-accented words of warning and then ambles back over to Farrell, who is planting the tee for the three-pointer.
But wait...something's wrong.... oh no, hang on, the kick was by the 5m dashed line, not the 15m one. Cue another raise of hands and another 'I am just a young lad playing a game I love' look of shocked innocence...
Farrell, having started a scrap and then tried to steal ten metres with the kick, lines it up. And pushes it gloriously right.
Question is, had he simply started focussing on the kick the moment the whistle went and the arm went up rather than prat around with BJ Botha and tried to con the referee, would he have made it?
Loose Pass compiled by Richard Anderson