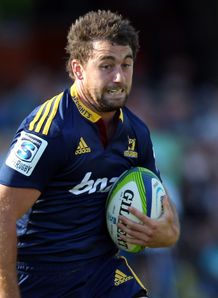 Related links
Teams
Also see
Highlanders wing Kurt Baker has been banned for six weeks for a foul committed in Friday's win over the Rebels in Dunedin.
SANZAR duty judicial officer Nicholas Davidson accepted a guilty plea from Baker for contravening Law 10.4 (j) Lifting Tackle, after he was cited.
Baker has been suspended from all forms of the game for six weeks up to and including 16 May 2014.
The incident occurred in the 12th minute of the match, which the Highlanders won 33-30, when he tackled Rebels scrum-half Nick Stirzaker at Forsyth Barr Stadium.
In his finding, Davidson ruled the following: "After reviewing the video footage and hearing from the player and his representatives, including counsel Mr Aaron Lloyd, and obtaining their views of the incident, I proceeded on the basis required of a Duty Judicial Officer that breach was established.
"The footage showed the player driving the Rebels player away from the breakdown before lifting and tipping him rapidly to the ground.
"I considered that the potential for harm was significant as the tackled player was lifted high off the ground and tipped quickly so that despite the Rebels' player attempt to break his fall with his arm, his neck made contact with the ground.
"The tackler has the responsibility not to place the tackled player at such risk and in this case, the player was placed in a very vulnerable position and was fortunate to not be injured.
The incident was found to have an entry point in the mid-range which starts at eight weeks.
"I then added two weeks as a deterrent for this type of tackle as it has been widely acknowledged that this type of action can not be tolerated in the game due to the risk to players.
"This was acknowledged by the player and by Highlanders management.
Based on acceptance of the indicated sanction, and the player's excellent disciplinary and playing record, a discount was given to bring the suspension to six weeks.
"The player is suspended up to and including Friday 16 May 2014."